Autographs are a fun past time at the Disney Parks and Resorts, as well as a great way for shy fans to break the ice with their favorite character. While autographs books are plentiful, convenient and seem to reign supreme, they are often relegated to a shelf where they collect dust once you get home. Here are a few Disney autograph ideas to keep your signatures front and center (or at least off that hidden shelf) once the vacation comes to a close.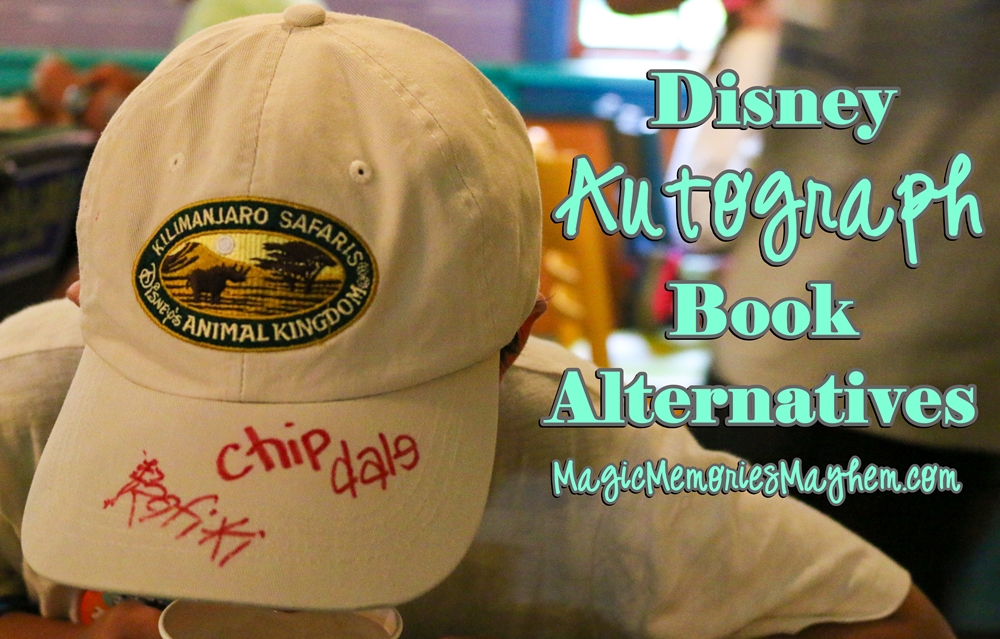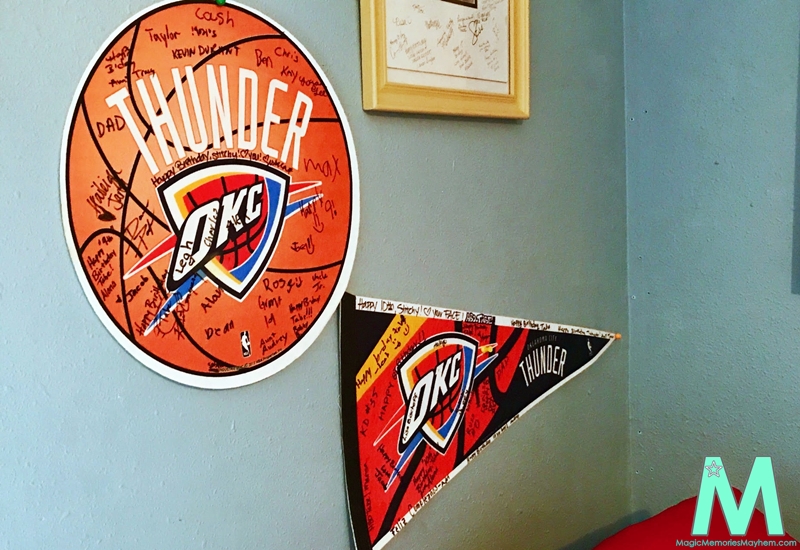 1. Wall Hangings
We haven't done this for Disney, but this has been a great option for Stitchy's birthday party "guestbooks." Grab a piece of Disney wall art, a pennant or even a blank wooden letter (a letter would be super cute for a classroom, too, my fellow Disney teachers!) that's small enough to stuff in your park bag. Remember, if your item isn't rigid, bring something to use as a hard surface for signing.
2. Bags
This is another we haven't tried personally, but I always thought it would be cute. Chances are you're going to be toting some type of bag with you around the parks. Why not make it a souvenir?! Make sure your bag is light colored (or opt for metallic markers), and have the characters sign on the side you won't  have against your body (no one wants a smeared and sweaty permanent ink mess). For Castaway Club members, I always thought the tote bag (depending on the material) you probably have duplicates of would be great for this!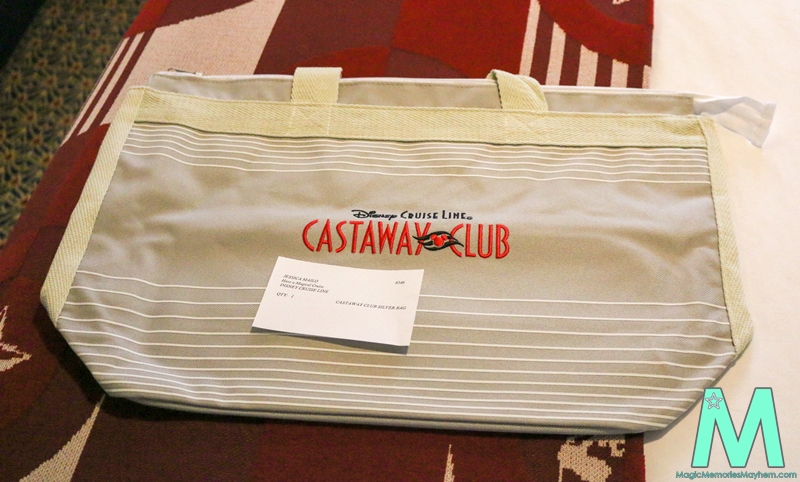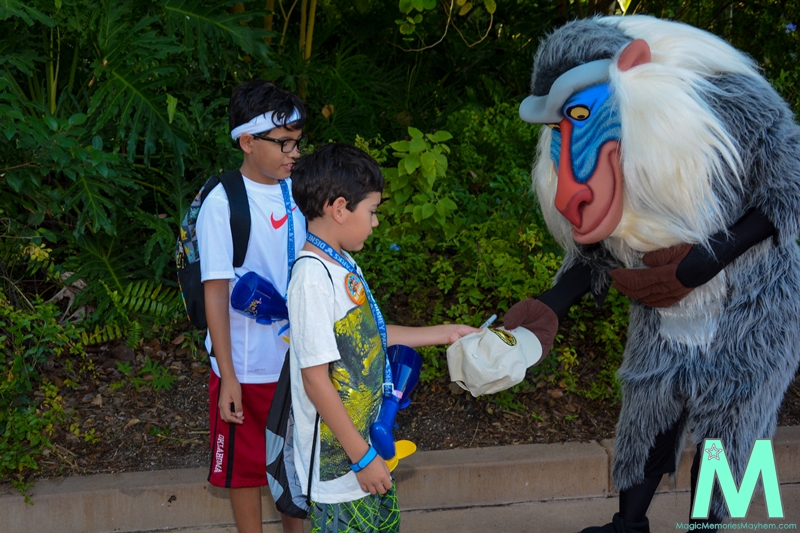 Side brag: I got this hat, tags attached, for $1 at a yard sale!
3. Hats
Perfectly portable, double duty and a built in hard surface, ball caps are a great option for snagging character autographs. No need to tote this around like some of the other options, as it site perfectly atop your noggin while roaming the parks. In addition to a fun souvenir, this choice will also protect you from the sun while you search for your next meet and greet. Characters may or may not have an aversion to your sweat while signing. 😉 While characters will sign any part of the hat, the bill already has a built in hard surface to make signing easier. We only had one character, Tiana, (who was, shall we say, getting her feet wet) who signed somewhat awkwardly on my nephew's hat choosing to sign her name in the inside of the hat rather than in a visible location. You can always specify the autograph spot if you prefer.
Bonus Tip: Classic black Mickey ear hats are a nice, clean option for autographs, too! Just be sure you grab a marker that will show up on black.
4. Greeting Cards and Post Cards
Are you or is someone at home celebrating a special event? Grab a (Disney?!) themed greeting card to throw in your bag. Or pick up a post card and send an extra special "Wish you were here!" with greetings from their favorite characters. These are super cute tacked up on your office bulletin board or your family command center for a little bit of magic in your every day.
Bonus Tip: If you're celebrating a milestone at a Disney character dining restaurant, inquire about an autographed card. We've typically received these when noting birthdays and anniversaries on our dining reservations without asking, but if you don't, don't be shy about looking into it. They may or may not have them on hand, but there's no harm in checking. You can then use this card to collect more autographs after your meal.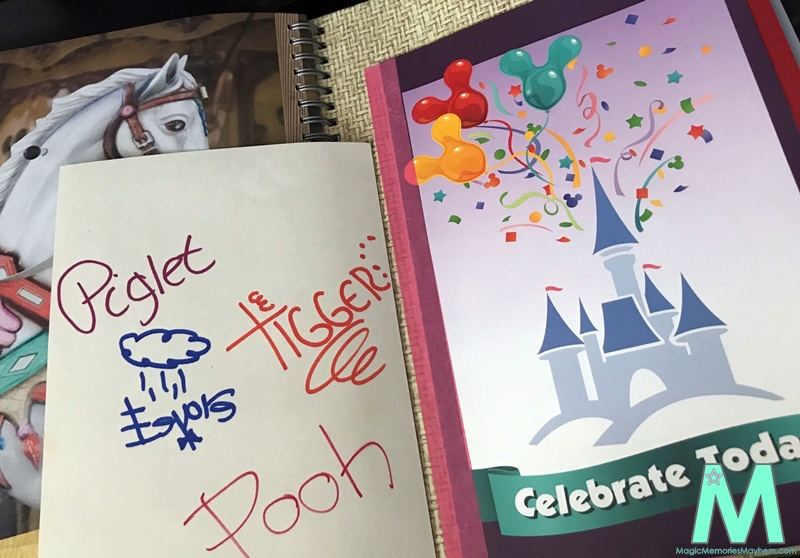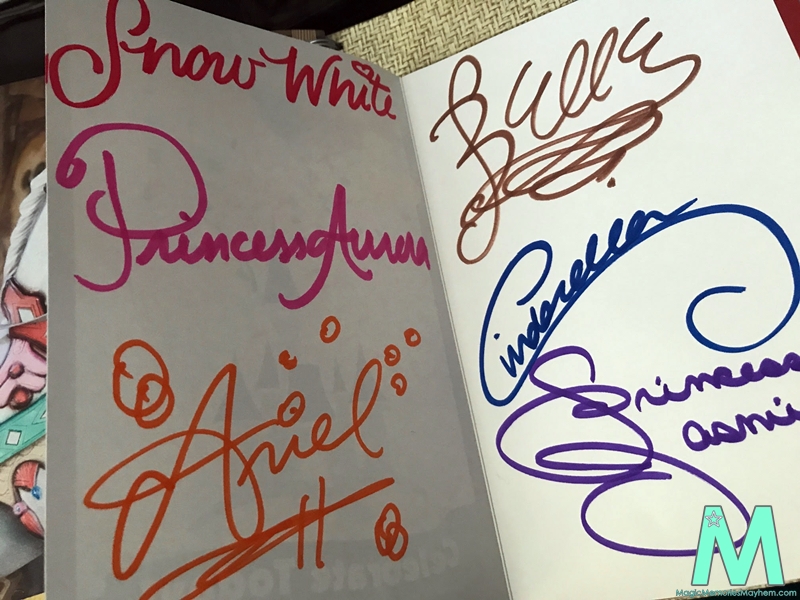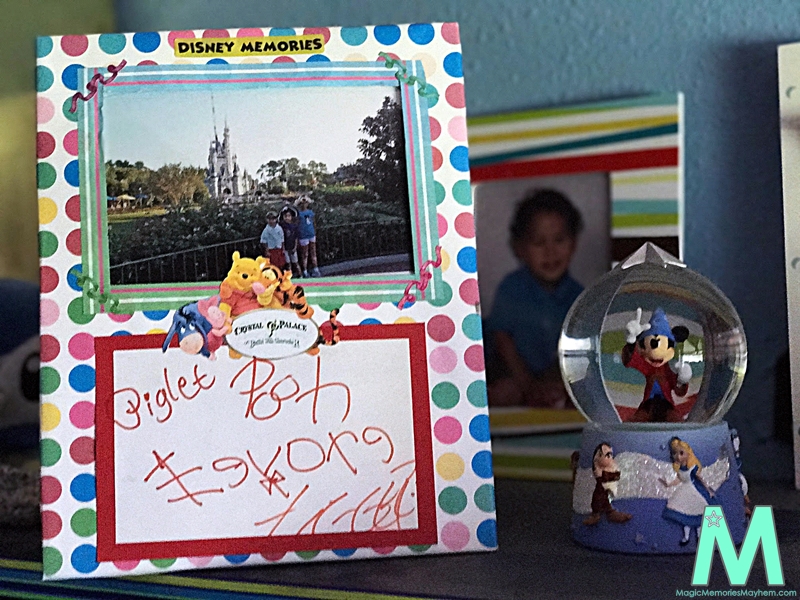 5. Picture Frames and Photo Mats
I absolutely love the frames that usually surface around graduation season (or in my case…on clearance right after)! If you don't grab one then, you can also usually find them with wedding supplies, craft store framing departments and occasionally party stores. There is a spot for an photo, of course, but the actual frame part is much wider to accommodate the autographs of your guests and well-wishers. These, of course, are also perfect for character autographs, too! I added some scrapbook paper to this one and printed out a logo, as I wanted to use it specifically for breakfast at Crystal Palace. Photo mats offer the same look, but it looks like these are a bit more delicate than the frames.
6. Photo Albums
I saved my personal favorite for last, but if you're a newbie headed out on your first trip, you might give this one a go in lieu of #7. I happened to stumble upon a couple of these awesome Mickey albums at the Disney Store after Independence Day one year and snagged them at a super low price (I think they were, like, $1.49 each). These were great because they had a journaling page next to each photo sleeve. The kids got autographs on the journal page, then we'd slip the picture from the meet into the sleeve facing the autograph. If you can't find an album like this, any album will work, just slip in card stock cut (or bought) to size in the opposite sleeve. Disney Parks photo albums, like to 2010 one pictured, also tend to have branded paper in the picture sleeves that are great for autographs. If you don't want to tote around a photo album, throw your card stock or papers into a zip top bag (hello, water proof), and assemble the album post-trip. You can also purchase official Disney autograph books that follow this same idea, but you definitely have more creativity (and probably a little more green in your wallet) if you opt to grab your own album off property.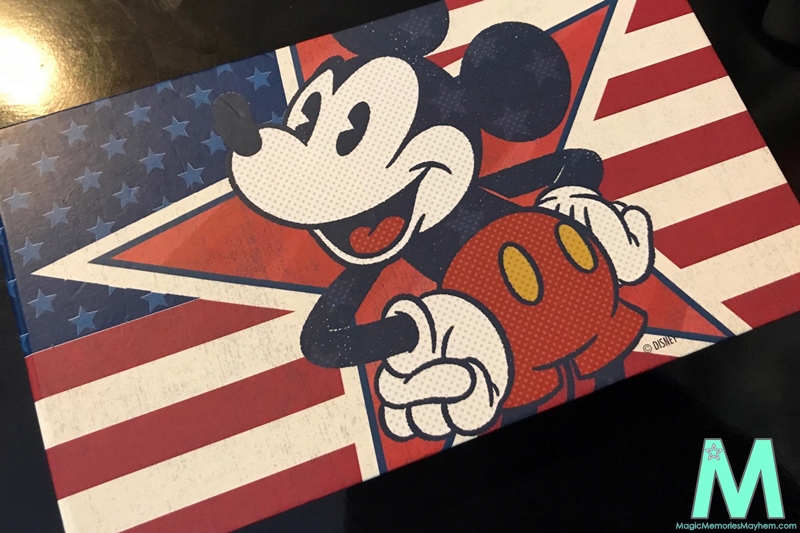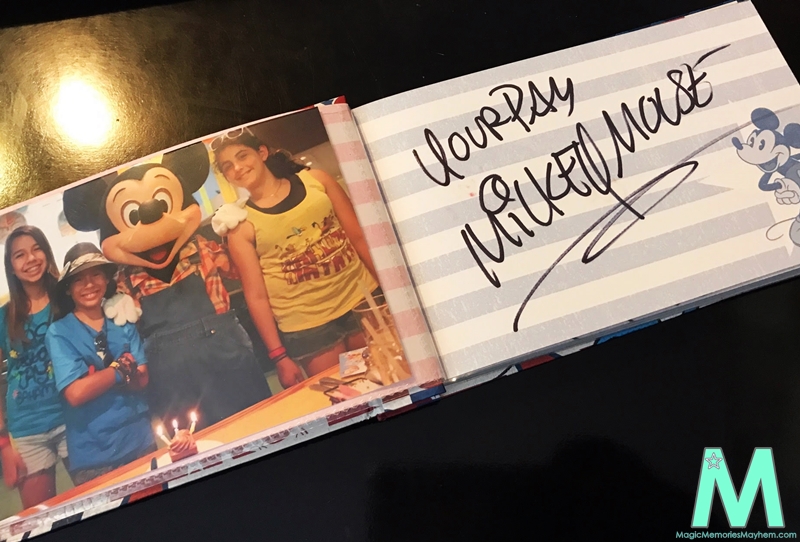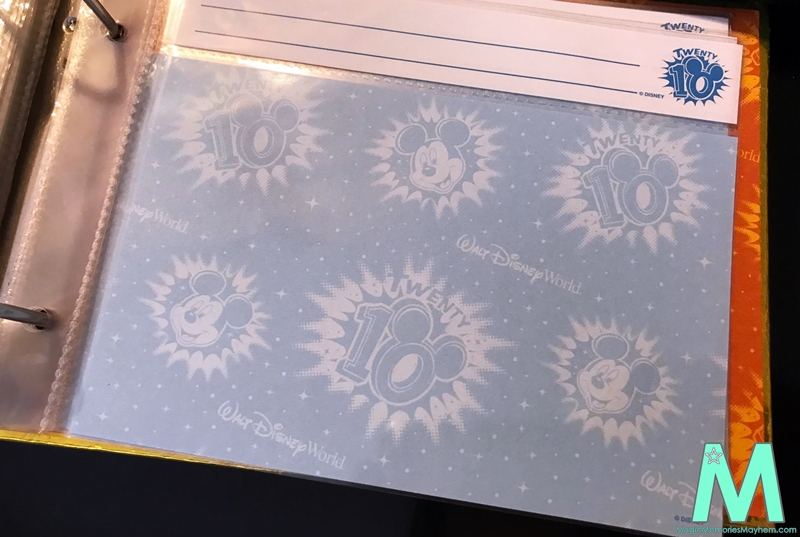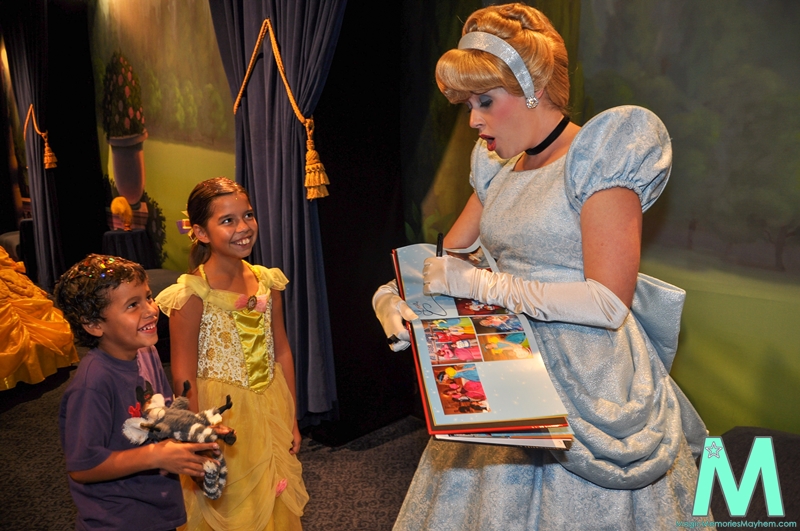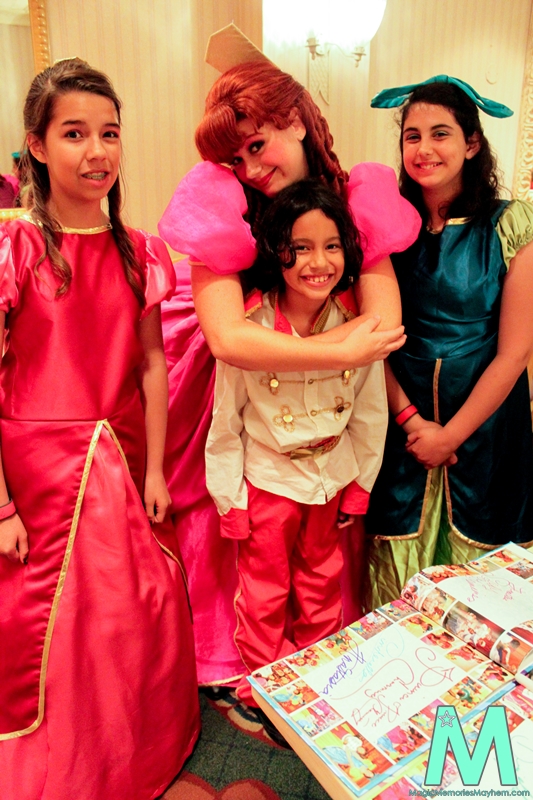 7. Photo Books
This is my absolute favorite method of autograph keeping! I started doing these with the kidlets on their second trip to Walt Disney World, and it was a huuuge hit with every character we've ever come in contact with since then. Even as they get older, the kids still enjoy these. I pull favorite character photos from past trips and place them into a photo book from Shutterfly. I designate a page or spread for each movie or character. For example, Mickey gets his own page, but the Cinderella page includes Cindy, Charming, Anastasia, Drizella, Lady Tremaine, Suzy, Perla and the Fairy Godmother. I'm slightly (or heavily) OCD, so I arrange the pictures in chronological order because I like seeing how the littles changed from trip to trip.
The characters go NUTS seeing themselves, especially when we run into the same characters on multiple trips (if you catch my drift). The characters (and even attendants!) spend an above average amount of time with the kids thumbing through the books and asking questions. This has been the single best boost of character interaction throughout our Disney trips, and I don't see it too often, so it still seems to be a bit of a novelty with the characters. And although it's still technically a book, these aren't relegated to the back of a shelf. They're pulled out often to enjoy pictures and memories. <3
Some fun from one of our early trips with the autograph books. Excuse the grainy video! That was back before I invested in better gear. 😉 And pardon me while I ugly cry about how sweet and little they were…
Bonus Tips:
Retractable Sharpies (affiliate link) are perfect for autograph collecting. No lids to lose, a variety of colors and larger than the average pen so characters with bulkier hands can grasp them easily.
If you're opting for a fabric autograph item that will be washed, consider fabric markers instead.
Bear in mind that characters are not supposed to sign anything you are currently wearing, so make sure your hair is combed under that hat. 🙂
Character attendants tend to have markers and/or pens on them, so don't fret (or go buy new ones) if you lose or forget yours.
Have fun! For us, autographs aren't the mission but an opening act. Enjoy the interactions, play along and don't forget to snap a few shots or roll that video!
We'd love to see your autograph alternatives! Please comment with pictures, ideas or tried and true methods, and let us know if we can share your ideas on the blog or via social media (with credit, of course!). It's so much fun to spread pixie-dusted ideas! Happy autograph seeking!