Walt chose Florida for his second park because of the amicable weather. While the Sunshine State does have some beautiful days, there are those moments where it's just. plain. hot. With humidity reaching up to 9000% (may or may not be scientifically accurate), it's a good idea to have a plan when temps, both temperatures and tempers, start to rise. Here are ten ways too keep your cool and beat the heat at Walt Disney World.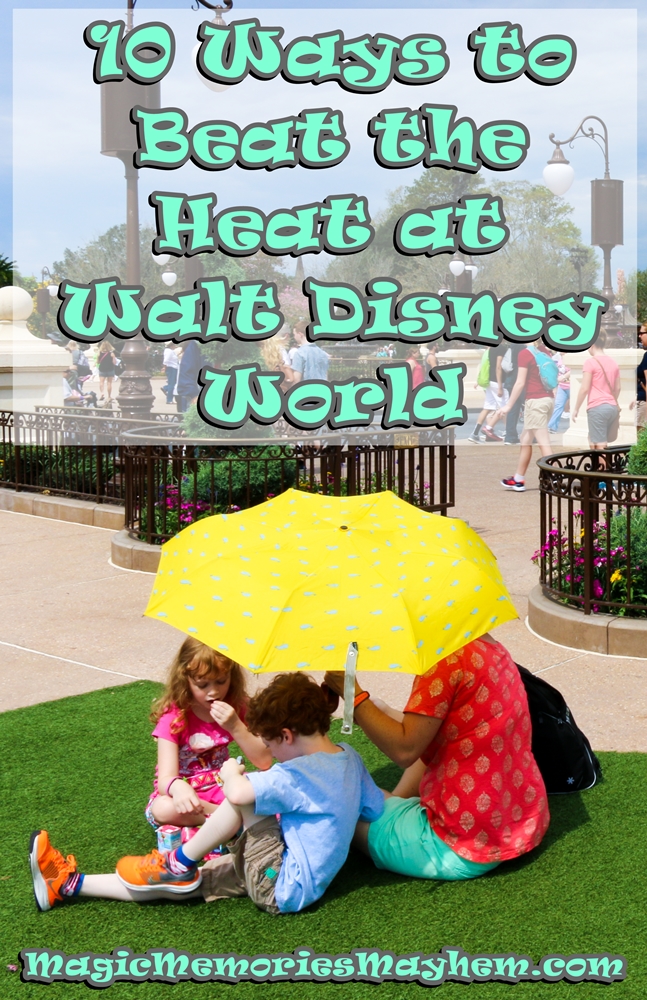 1. Dress for Success
While it's tempting to try to look fashion forward when you're at the most photographed place on Earth, consider your fabrics. That super adorable chiffon dress will look killer on Instagram (we'd love a follow, by the way), but how breathable will it feel six hours into a marathon day at Magic Kingdom? Those jeans that make your bootie pop are awesome, but no one likes denim after riding Kali River Rapids. Natural, breathable fabrics are best, so look at cotton and linen, or consider moisture-wicking options if you're a dripper. And, yes, black is slimming, but opt for light, reflective colors when traipsing around the parks. But, girls, go ahead and pack that LBD for a night out at the Boardwalk. 😉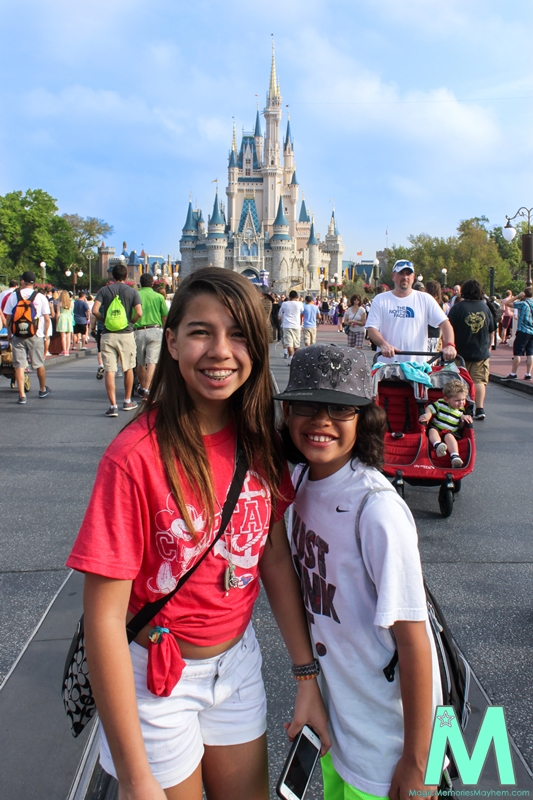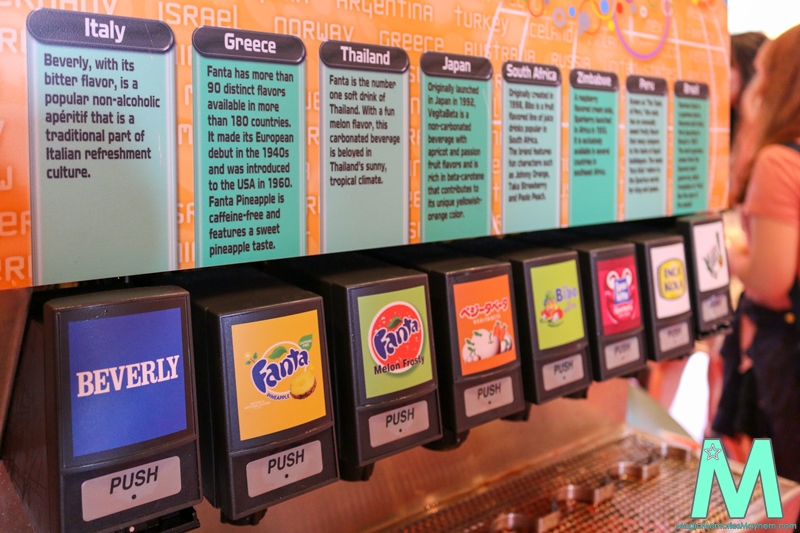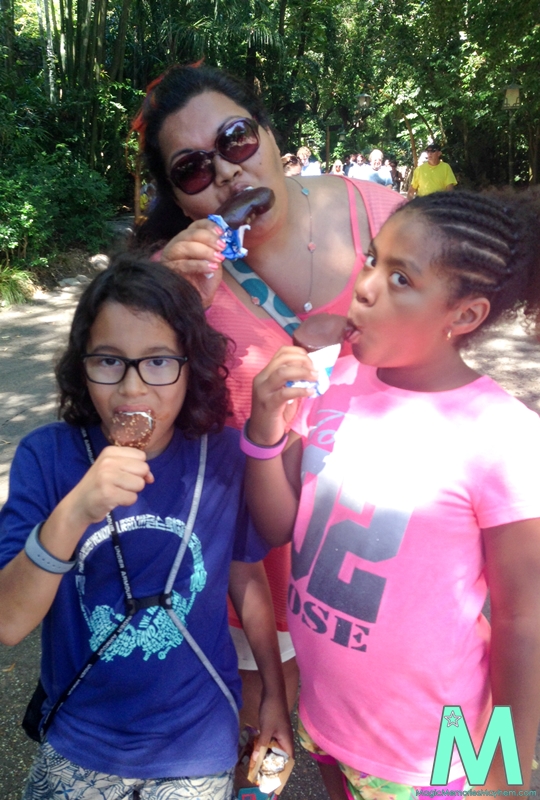 2. Get Cool from the Inside Out
Stay hydrated, stay hydrated, stay hydrated!! This cannot be stressed enough!! Free ice water is available at counter service restaurants, and fountains are located around the parks. Of course, you can purchase bottled water about every fifteen feet, too.
Once you've gotten a decent amount of water in you, it's time to indulge! Head to Club Cool in Epcot (to the right of the Fountain of Nations if your back is to Spaceship Earth) and sample some cool Coca Cola beverages from around the world. Don't forget to try the Beverly! If you're craving something sweet, spring for a Mickey Bar or, my personal favorite, a strawberry juice bar! There's no shortage of frozen treats at Disney World to keep your tummy happy and your insides cool.
3. Personal AC
While there are quite literally personal ACs, we haven't tried them, but we have used the heck out of a few of these park staples. Misting fans are available for purchase all over the parks, but you can also grab one for about half the price at Target before you head out on vacation. Fill 'er up with some icy water, pop in a fresh battery pre-trip and you're good to go.
We also tried out cooling towels on the recommendation of a golfer friend last summer. I cannot say enough about these! Not only did they keep us cool, they kept us from burning our buns while sitting on the curb watching Festival of Fantasy on a hit August afternoon. We wore them around our necks, the small of our backs and they were great for a quick face swipe when needed. Hit your local sporting goods spot to pick these up pre-trip. We also happened to pick up a set of Disney World towels at the Character Outlet this spring break, but it was unseasonably cool, so we have yet to try them.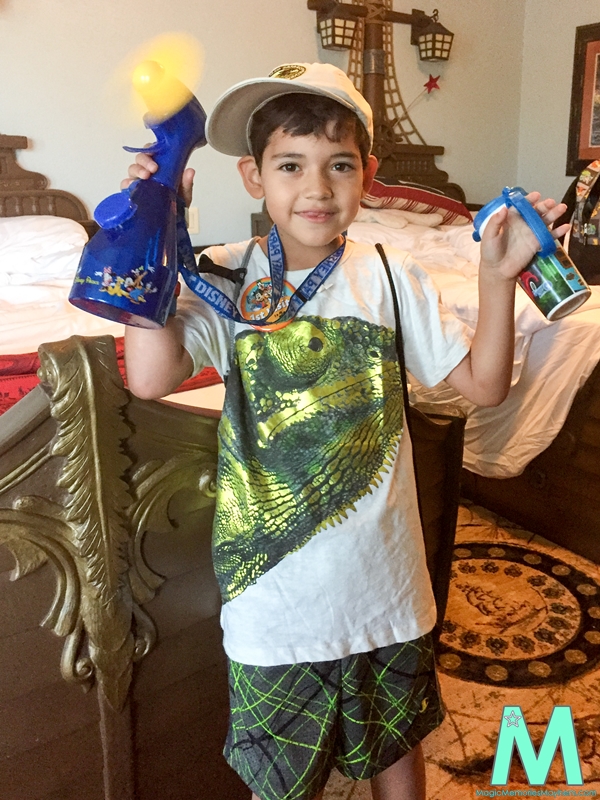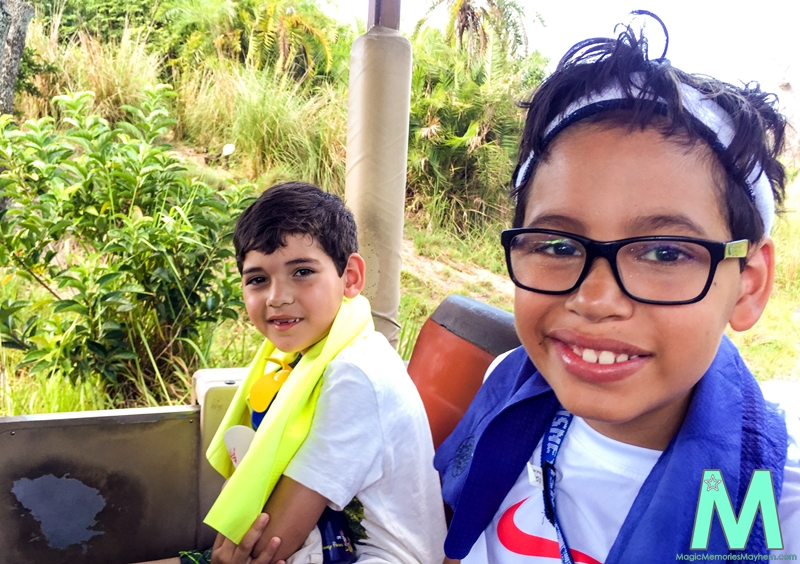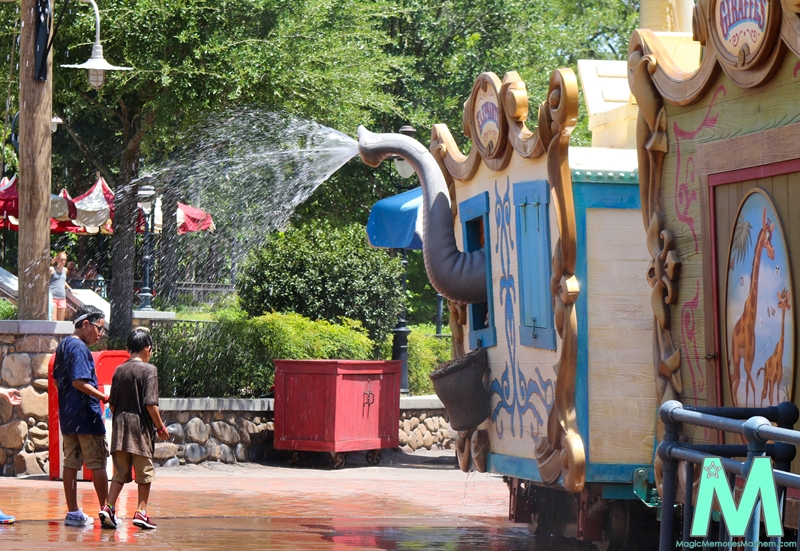 4. Spraygrounds
Spraygrounds (aka splash pads) and misters are sprinkled throughout the parks for guests, young and old alike. With the removal of the Honey, I Shrunk the Playground play area (and everything surrounding it now…wahhhhhhh!!), I'm not aware of any of these areas at Hollywood Studios (someone chime in if I'm wrong), however. I'd bet my Tables in Wonderland, though, that some form of mister or water area will surface with the opening on the two new and highly anticipated lands.
If you're planning to utilize these, consider throwing a pair of flip-flops in your bag. No one likes wet socks. A change of clothes for the kiddos, at least, may be in order, especially at the Casey Jr. Splash 'N' Soak Station in Magic Kingdom.
Magic Kingdom: Storybook Circus, Adventureland, Tomorrowland
Epcot: Walkway between Future World and the World Showcase, walkway toward Mission:SPACE; Cool Wash near Test Track
Animal Kingdom: Lockers near Kali River Rapids
5. Climate Control
There is no shortage of indoor, climate controlled attractions at Disney World, thank goodness. If you can survive the queue elbow to elbow hundreds of your new closest friends (some of whom don't believe in deodorant), then you're gold! Personally, I love a show, as I'm guaranteed a good 20 minutes of AC, if not more. For unlimited (well, park hours permitting) air conditioning, step into one of the exhibits lining the World Showcase. Many offer benches and are very aesthetically pleasing. Perfect spot to escape the heat for as long as your family will let you. Star Wars Launch Bay and One Man's Dream are great for this, too, as well as providing some interesting viewing and maybe a character encounter or two.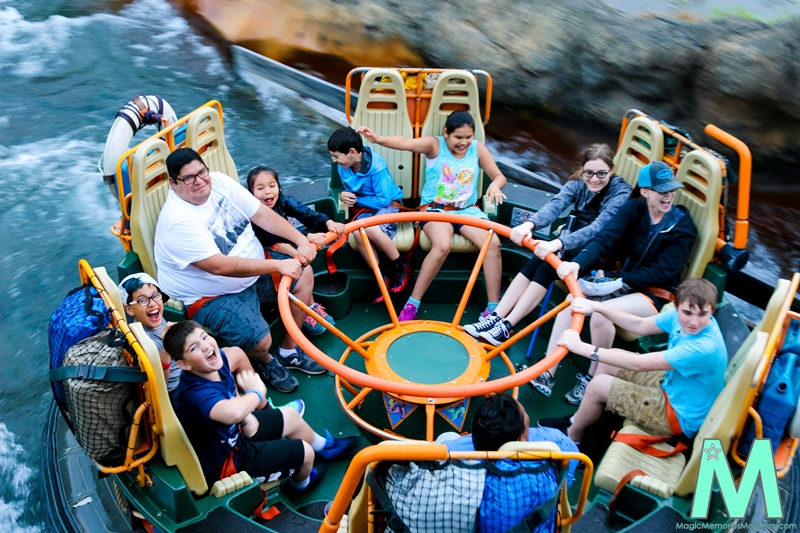 6. Ride or Die (of heat)
Speaking of attractions, at least two attractions are guaranteed to give you a little chill. Splash Mountain in Magic Kingdom and Kali River Rapids basically guarantee a little relief ranging from spray to holy crap, I shouldn't have worn white. Like the spraygrounds, consider alternate foot wear. Kali even offers complimentary lockers to store your items while you ride, so you can easily throw tennis shoes in while you don a pair of sandals. Of course, if you didn't remember and are absolutely miserable in wet socks and shoes, in true Disney fashion, there are kiosks hawking sandals and towels as you exit the ride. 😉
7. Belly Up to the Counter
In addition to that free ice water I mentioned earlier, quick service restaurants are a great place to beat the heat. Indoor locations are air conditioned and offer seating, while outdoor locations tend to at least offer shade from the blaring sun. This is also a great time to fuel up, as the heat can definitely take it out of you. Most restaurants offer lighter fare that will complement the heat better than a piping hot cheeseburger. Order up a turkey sandwich or a salad with that large ice water and take a breather.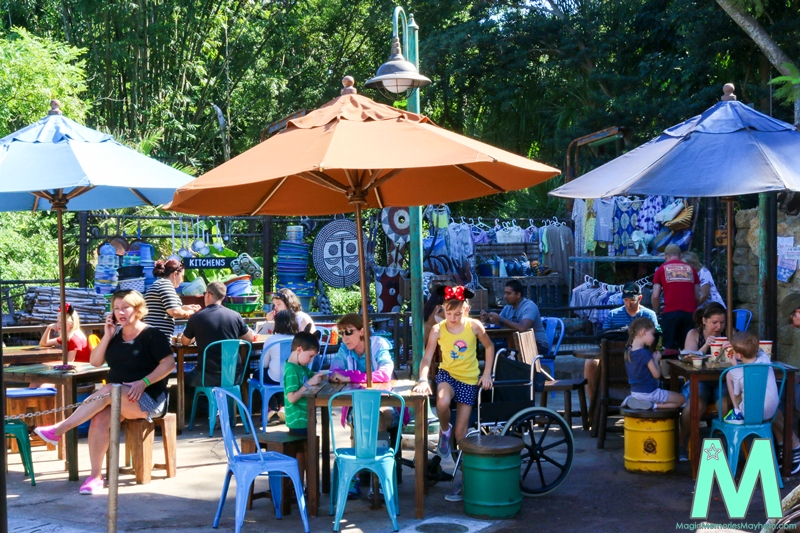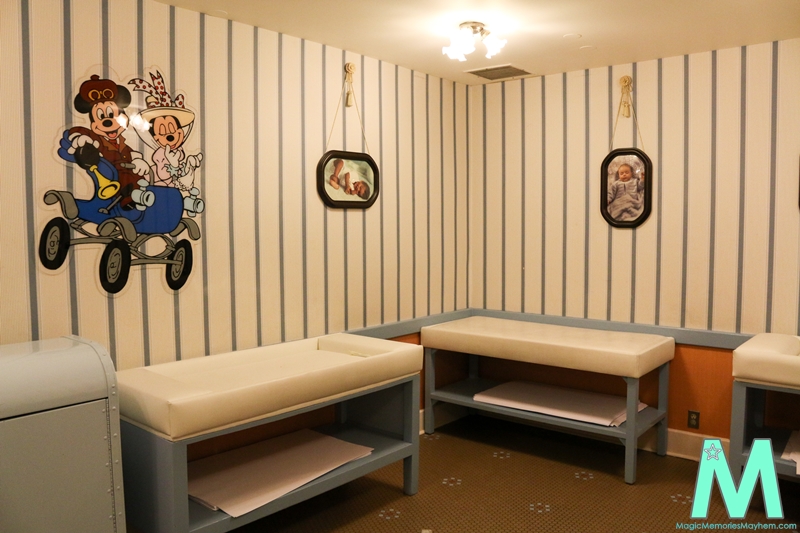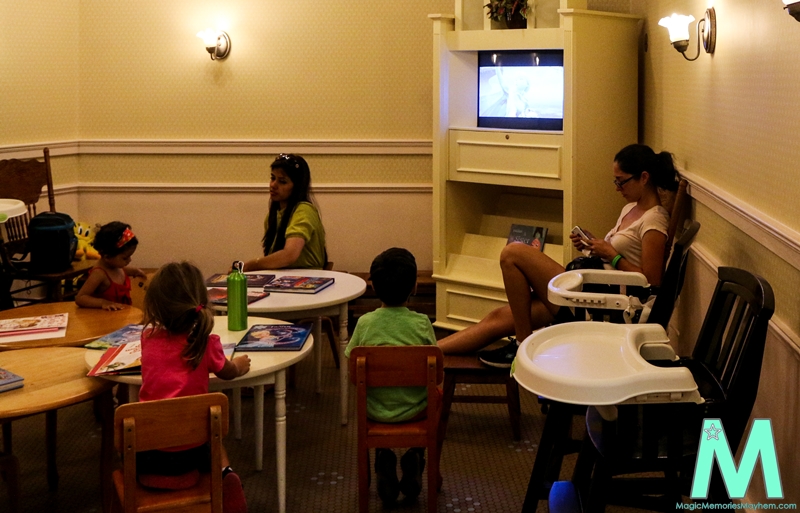 8. Baby, It's Hot Outside
Traveling with little ones? Take full advantage of each park's baby care center! With cool and clean changing stations, nursing areas and a small room to escape the heat and overstimulation of the parks, these centers are an oasis in the desert of magic. We utilized them quite a bit when the kids were younger. The cast members even encouraged the grandparents to stay and watch cartoons with the kiddos while the rest of us rode a few more rides.
The centers also offer supplies for for purchase (diapers, baby food, OTC meds, etc.), as well as restrooms, microwaves, sinks and anything you need to care for your littlest ones while in the park.
Magic Kingdom: Near Crystal Palace (to the left of the hub when facing Cinderella Castle)
Epcot: The Odyssey (between Test Track and Mexico)
Hollywood Studios: Guest Relations (to the left when you enter the park)
Animal Kingdom: Past Pizzafari (to the left when walking toward Africa)
9. (Water) Park It
I'm not a big water park fan since I saw a band-aid floating by me in the wave pool when I was 10. However, and I know band-aids are still a possibility in Disney, I LOVE me some Disney water parks! And if the four main theme parks are scorching, consider a day or two at Typhoon Lagoon or Blizzard Beach. Awesome slides, great theming and a variety of options for all ages and thrill levels, you'd be hard pressed not to have a great time at the water parks.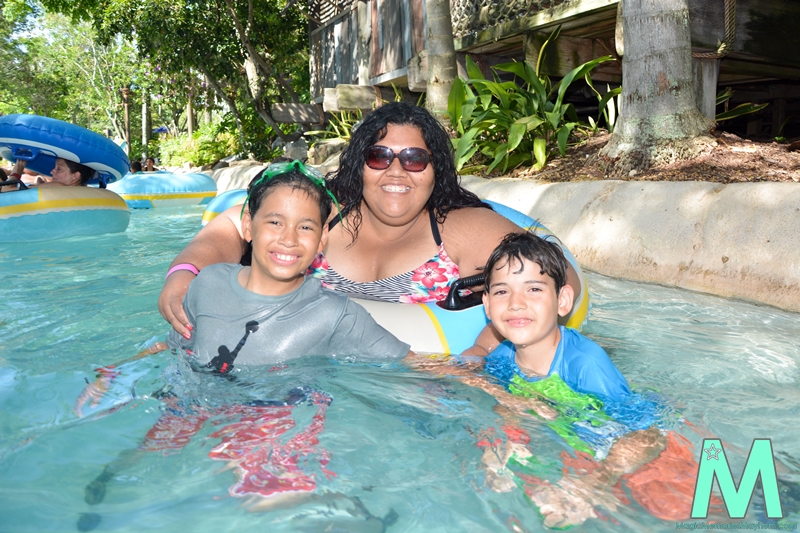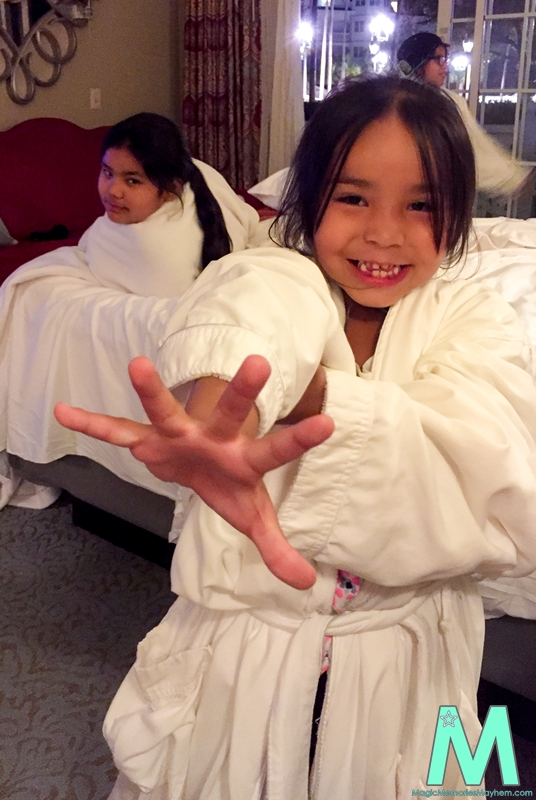 10. Welcome Home
One of the main reasons I will only stay on property when visiting Walt Disney World is location, location, location. There's not shame in my game. I'll 100% skip out on the parks if the temps start climbing.  No one is making magical memories if you're all drenched in sweat and crabby.  If you're miserably hot and everyone is melting down, hop a monorail or bus or boat back to your room and chill. Hop in the pool, take a nap, grab a shower, whatever. Just decompress and relax. It is, after all, your vacation…
While central Florida's steamy temps can take it out of you, especially in the summer, with a little pre-planning, you can beat the heat and have a great trip full of magic, memories and just a little mayhem. Now, share with us, how do you keep it cool at Walt Disney World?