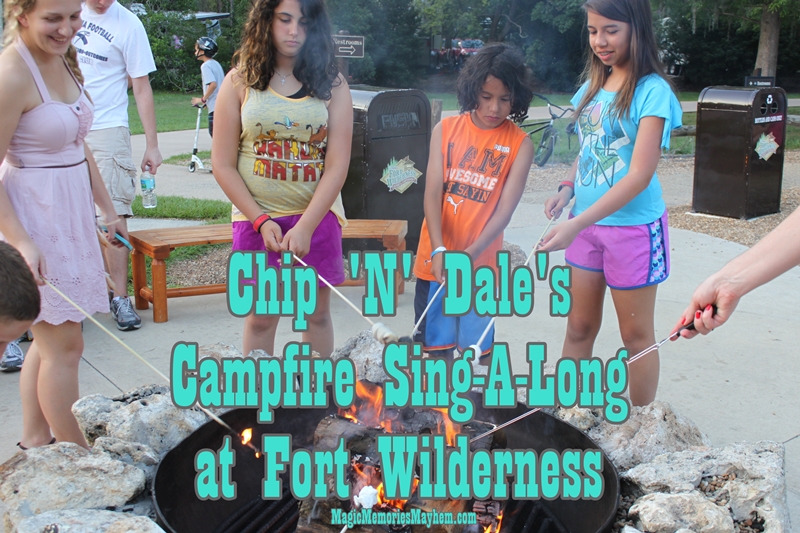 Chip and Dale host a nightly (weather permitting) campfire, sing-a-long and movie at Fort Wilderness.  Our evening started at 7:00 with the campfire where guests were roasting marshmallows and hot dogs.  We thought we were super smart snagging our own s'more makings at Target earlier in the week, but it turns out you have to buy sticks.  This was new to us, as we'd always been provided with complimentary sticks at our other resorts.  They're $.63 a pop, so not a bank breaker, but we had to charge to the room since I had no cash on me.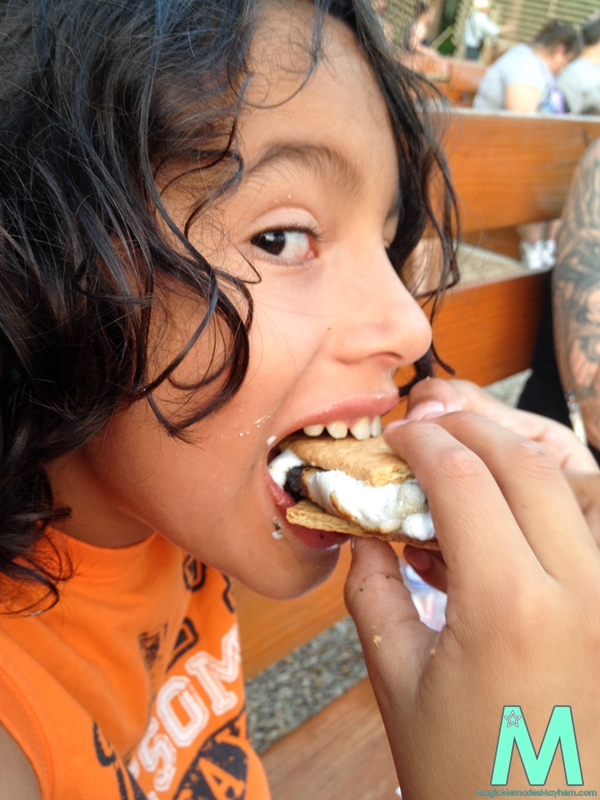 A little after the fires are started, your camp leader takes the stage and entertains the crowd for a bit before Chip 'N' Dale make their appearance.
The 'munks come out and hangout on stage for a bit, then they split up and make their way around the crowd for to mingle.  If you want to meet both, you'll have to go around and catch the brother who didn't make it to your seat, as they both don't circulate the entire crowd (at least not on this particular night).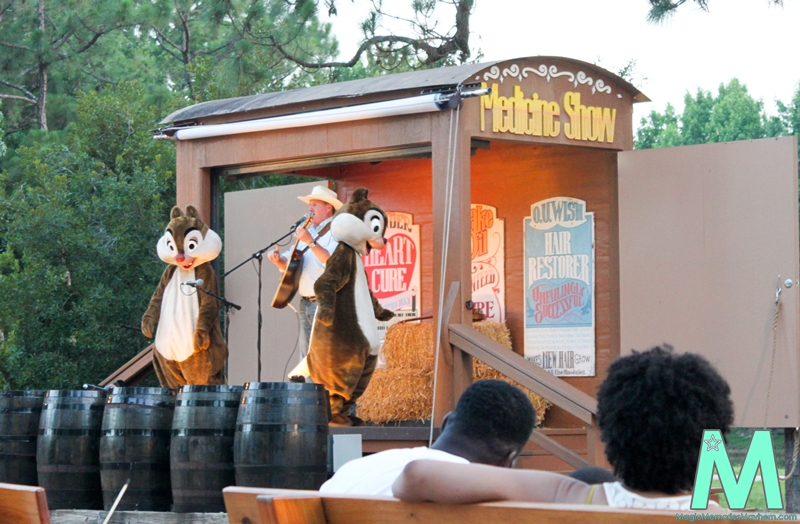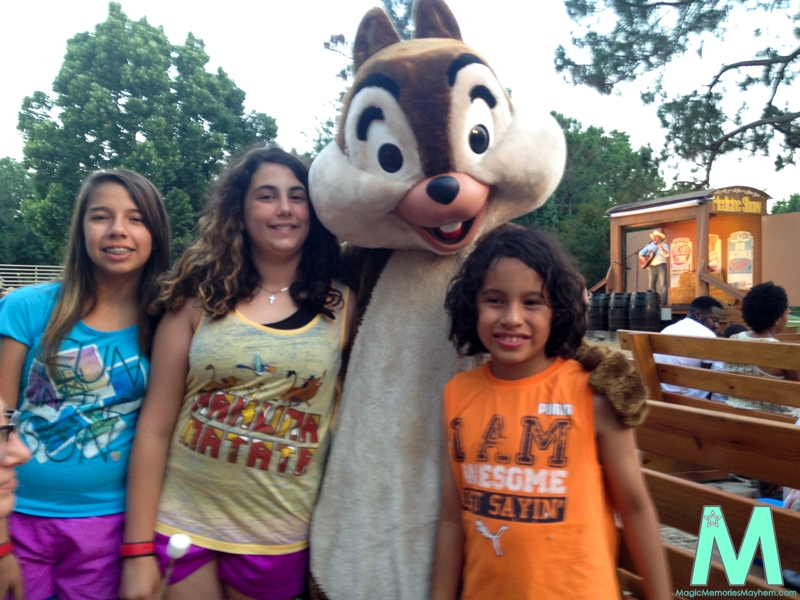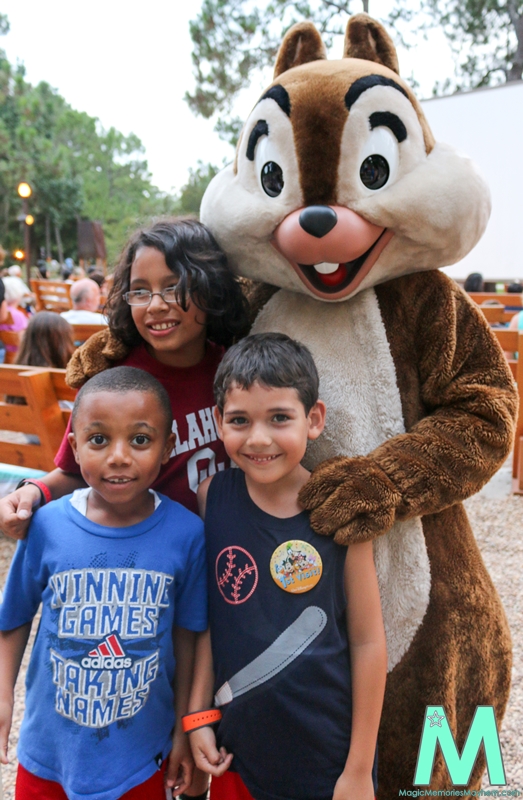 Once finished mingling, they invite all of their campers up for some song and dance. After the boys finish shakin' their groove thangs, they bid adieu to the crowd, and a movie will play shortly after the camp leader takes his leave, as well.  This is usually around 7:45 or 8:00.  We didn't stick around for the movie, but a schedule is posted for those who want to base their night on what is showing.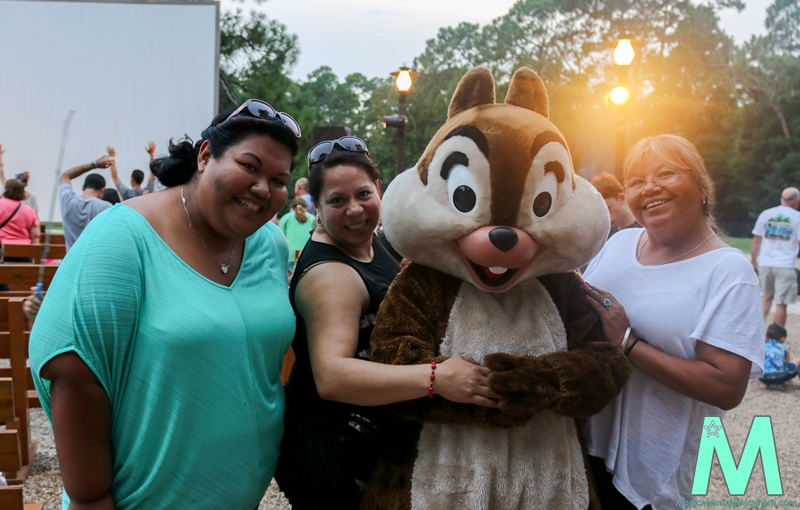 A couple of tips…
If you're staying at Fort Wilderness and/or planning to visit the sing-a-long more than once, save your sticks!  Or buy them on clearance at the end of summer at Target and pack them for your trip!!  I have some deluxe marshmallow sticks now that I know better.
If you're visiting the campground, park at the front of the campground and take the bus.  There are less than a dozen parking spots in the area, and they're all limited time.
The campfire site is a little ways behind the Meadow Trading Post, so stop in and grab supplies there before heading down the the site.
Have you been to the campfire?  Is it on your list for next time?  Let us know in the comments!