Advanced dining reservations are a huge part of pre-planning a trip to Walt Disney World.  With the most popular restaurants booking, literally, six months in advance, knowing how to to get a jump on the crowd by using My Disney Experience to book your dining can be invaluable.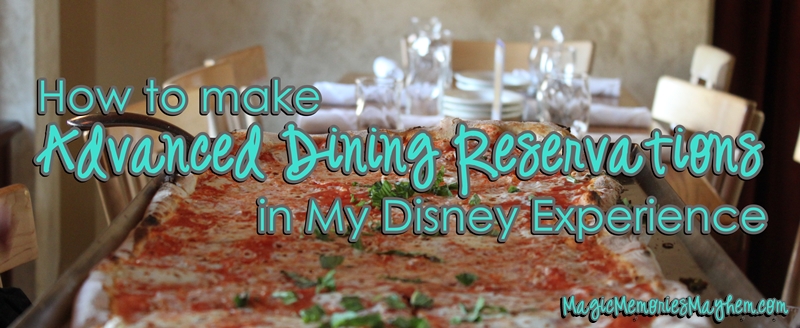 The dining reservation window at Walt Disney World opens 180 days before your meal.  I love this handy dandy tool for figuring out the exact date(s) I need to keep in mind.  If you've got your eyes on Be Our Guest or Cinderella's Royal Table, you'll want to be online or on the phone as early as possible on your 180 day mark.  I'm not kidding.  You may stumble on cancellations closer or even luck out with something the day of, but the closest you'll even get to a guaranteed meal at either restaurant is to be rarin' to go at 180 days.
Disney resort guests get the added perk of being able to book 180 prior to their check-in date and up to ten days after.  For most guests, this covers their entire stay.  If you're not a Disney resort guest or don't have your reservation booked at the 180 day mark, you'll be scheduling 180 days prior to each reservation you're hoping to secure.  If you're more flexible with restaurants, you can wait until 180 days prior to the last day of your vacation and do it all in one shot.
If you're not lucky enough to have a fantastic travel agent making your reservations for you, you can always call (407) WDW-DINE and have the cast members do most of the leg work.  However, now that dining reservations can be made online, I much prefer this method.
How to Make Advanced Dining Reservations in my Disney Experience
Assuming you already have a My Disney Experience account and are logged in…
1. Find the reservation link.
There are a few ways to get to dining, but I find this is the quickest and easiest.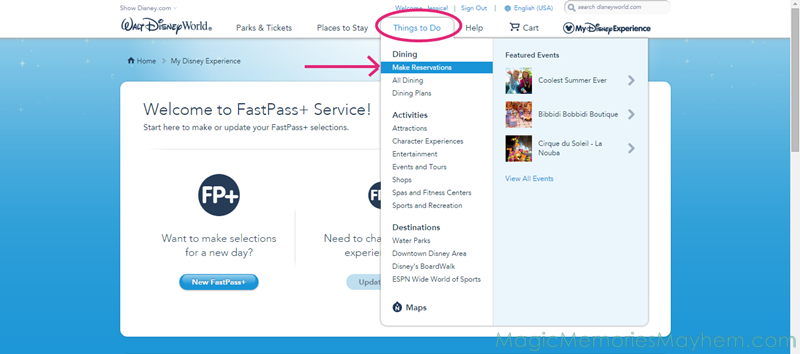 Hover over "Things to Do" then click on "Make Reservations."
2. Find your restaurant.
If you already know where you want to eat, just type it in the search box.  You can also filter by cuisine, location and experience (i.e., character dining).  There are more filters, but those are the most useful, I think.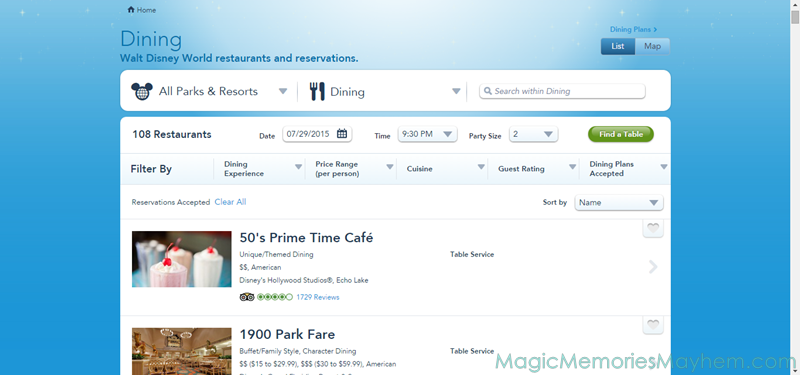 Although I LOVE me some 50s Prime Time Cafe and 1900 Park Fare, I'm going to be ballsy and go for Be Our Guest.  Some special events are also bookable through My Disney Experience like the beverage seminars at Epcot's International Food and Wine Festival in the fall.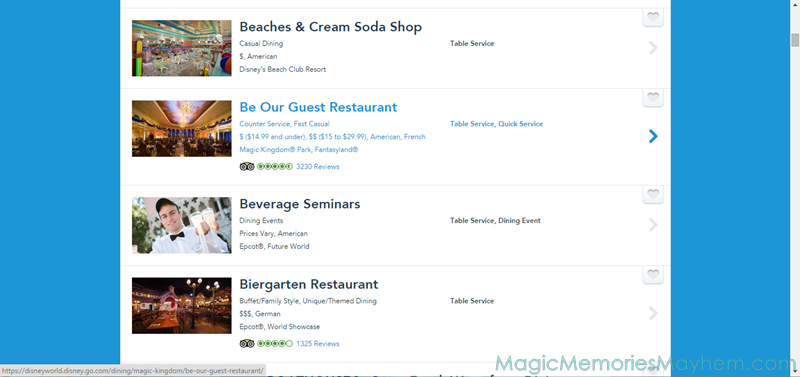 3. Choose your desired time.
You can choose an exact time and Disney will check about an hour before or after this time.  Or if you're flexible, choose a meal time (breakfast, lunch or dinner), and Disney will check for availability during the entire duration that meal is served.
Again, I'm going for the gold and looking for a next day dinner for two at Be Our Guest.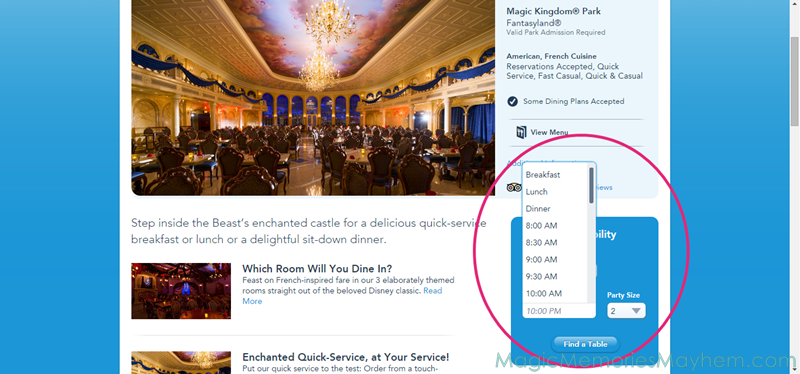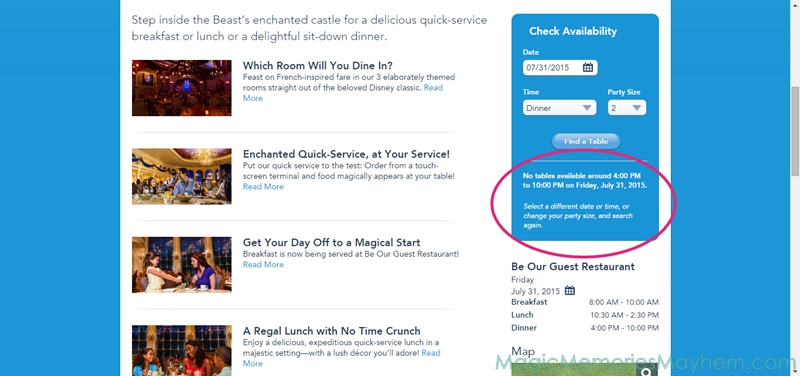 Quelle surprise.  I got nada.  But, what the hey, I'll see what's happening in 180 days.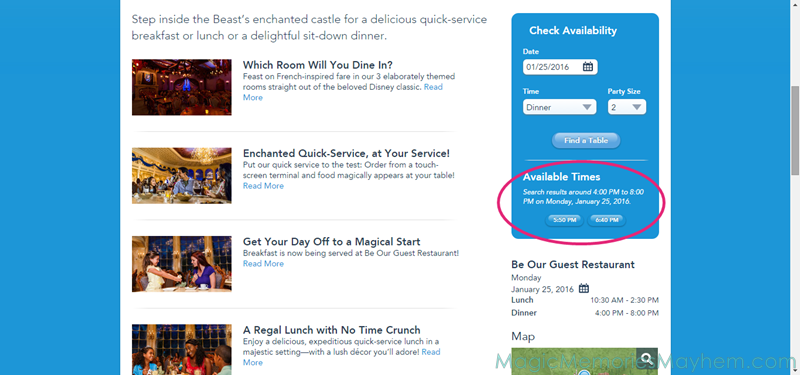 Bingo!  Two prime time dinner spots.  I can guarantee there were more openings this morning.  It was about 8:00 in the evening when I looked this up.
4. Select the time that works best for you.
It may not be your top choice, but snag whatever you can in the beginning.  You can always recheck as you get closer to travel.
5. Choose a manager.
You'll have to choose someone to be in charge of the reservation.  It's optional to add your guests.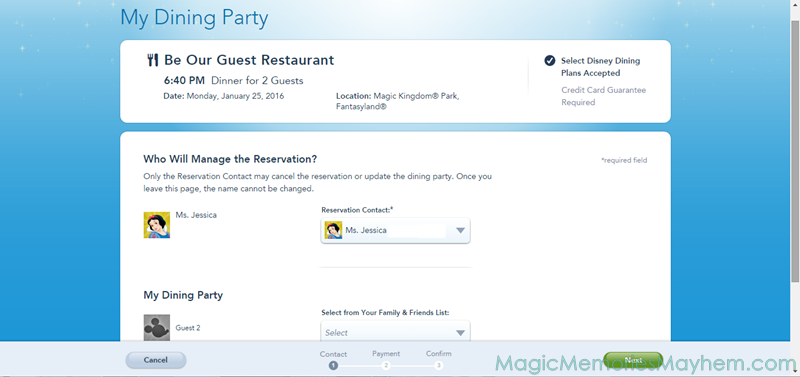 I left my date's name off in order to protect his privacy. COUGHJohnStamosCOUGH
6. Enter your card information.
You won't be charged anything at time of booking unless you're booking Cinderella's Royal Table or dinner shows without a dining plan that includes table service credits.  Some special events also require prepayment.  These will be noted prior to being charged.  You're not required to use this card for payment, but it will be charged in the event you're on the wrong side of the cancellation policy.
Whether or not your reservation requires prepayment, all reservations require a credit card guarantee.  Be sure to read the cancellation policy.  In a nutshell, you'll be charged $10 per person for no-shows or cancellations within 24 hours of the reservation.  If you're absolutely stuck, say someone is sick, I always recommend calling to cancel, as they may waive fees on a case by case basis.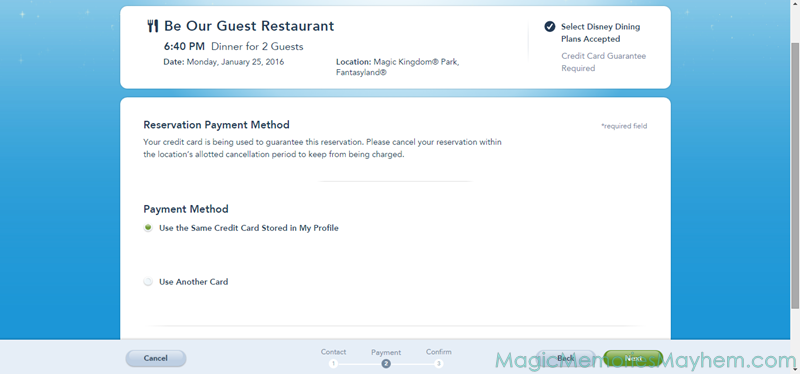 If you have a card on file, this is much faster than having to enter it each time you make a reservation.
7. You're on your way to confirmation.
You'll make sure your contact info is correct.  This is your chance to read over that cancellation policy, as well as other dining policies.  Check the box, and you're almost there!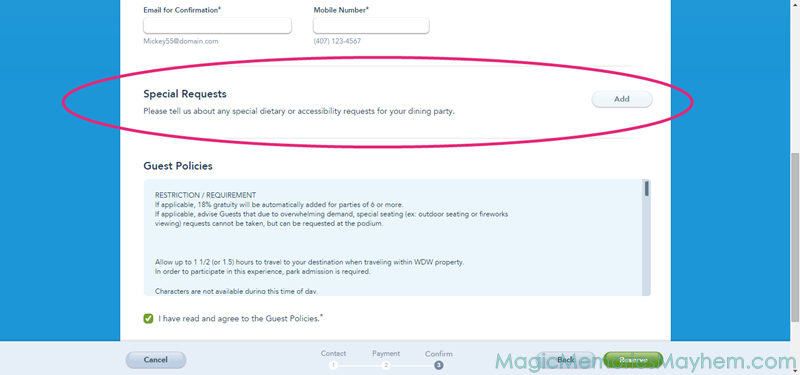 Notice that this is also the step you can note any special needs.
7a. Note special needs.
They have several general allergies listed, but no matter what you check, this will alert the hosts that you have a guest with special needs.  They'll chat with you in depth once you arrive, and if you have a food allergy, you can request the allergy menu and/or to speak with the chef.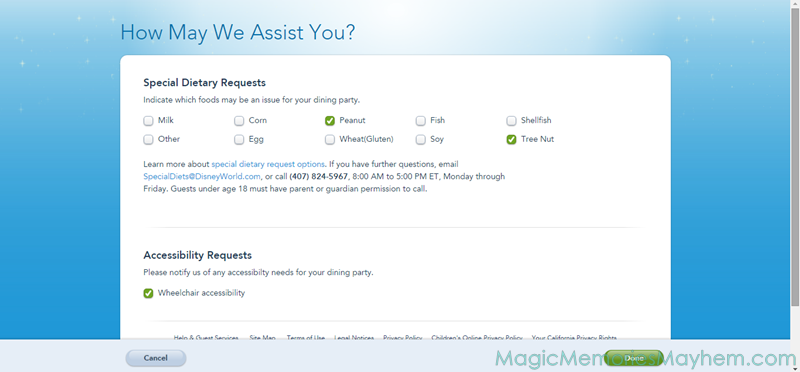 Uncle Jesse is allergic to peanuts, tree nuts and sprained his ankle.
8. Finalize your reservation.
Yeah, it's kind of the same as step 7, but I have another picture.  Congrats!  You're an ADR-making machine!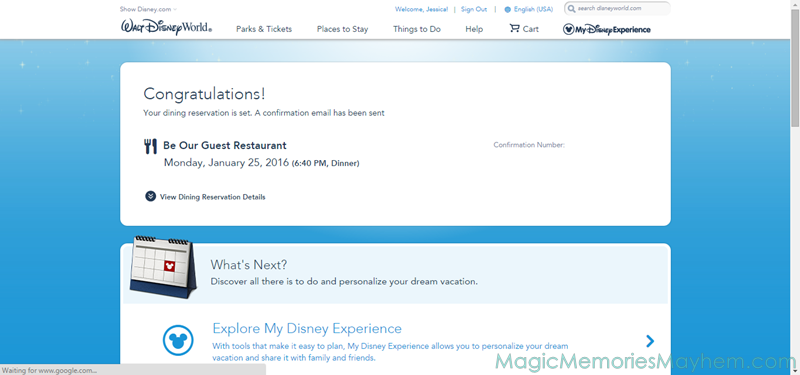 Check out Disney Yummies here on Magic, Memories, Mayhem for our favorite (and not-so-favorite) restaurants and a silly amount of pictures.
Now, back to that pesky cancellation policy…
How to Cancel a Dining Reservation in My Disney Experience
If it turns out you're not going to take advantage of your reservation, cancel that sucker!  Rarely do we have a reservation for less than six, and I know I don't want to be out $60.  I will say, however, especially if it's a popular reservation, don't cancel it until you absolutely know you won't be using it.  Much better to have it and not need it than to cancel it and wish you hadn't.  Just remember it's there!
1. Find the reservation.
I usually just head to my itinerary and scroll until I find it.  You'll simply click on the "Cancel Reservation" link.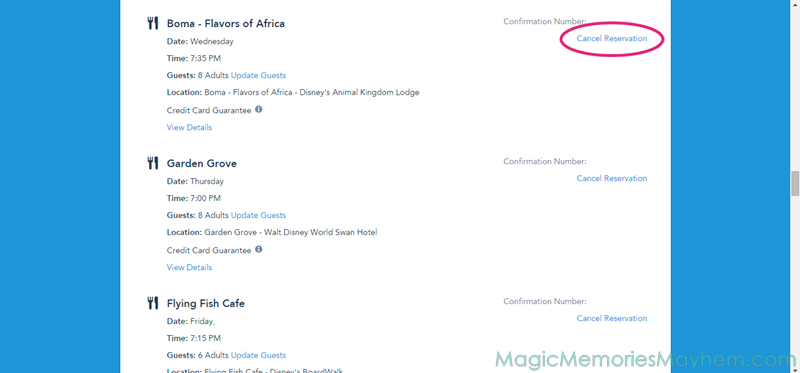 2. Confirm the cancellation.
Disney always wants to make sure you're sure.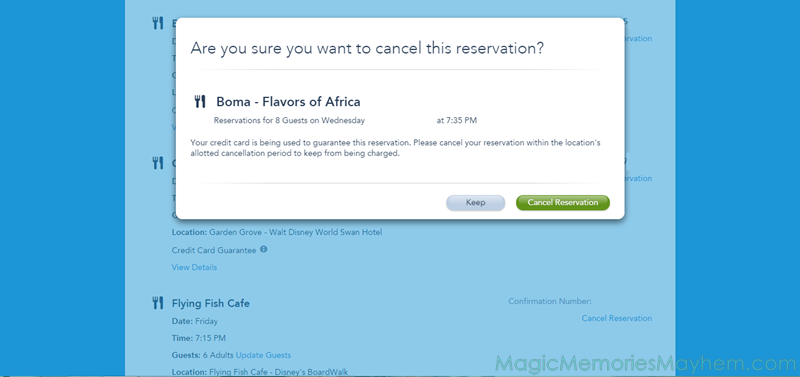 No, I DON'T want to cancel Boma.  Ever.
That's it!  You're out of the woods.
Remember when you chose a manager?  I want to point out that you can only cancel reservations you manage.  My girl, CB, made lunch reservations at Chef Mickey's, and although I can see it, I can't alter or cancel it in any way.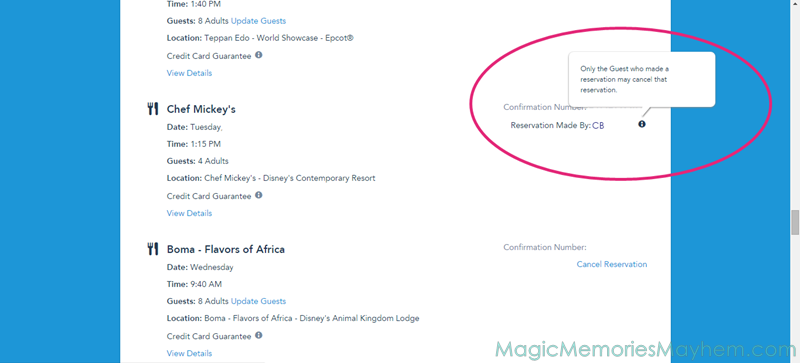 Let's start planning your trip full of Magic, Memories and maybe even a little Mayhem!