Now that you've finished FastPass+ 101 and are a total pro in the whys and rules of FastPasses, let's talk about the how.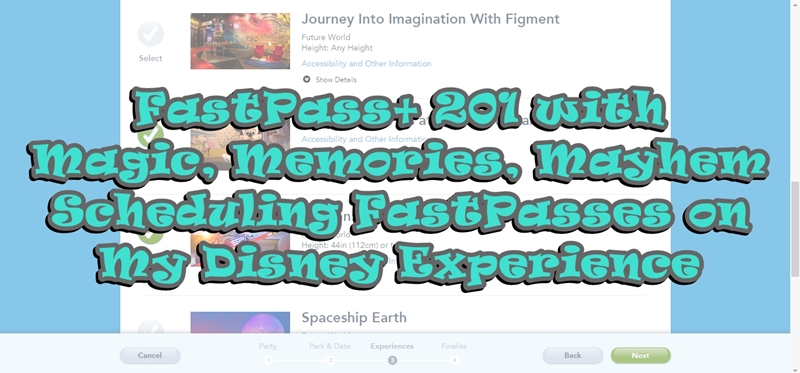 Scheduling FastPasses in My Disney Experience
I'm just going to jump in here assuming you've already got a My Disney Experience account.  If ya don't, head over to My Disney Experience and get set up.  Go ahead.  I'll wait.
1. Get to the scheduler.
There are two ways to get to the FastPass scheduler.  Well, there are more than two, but here are the quick and easy ways.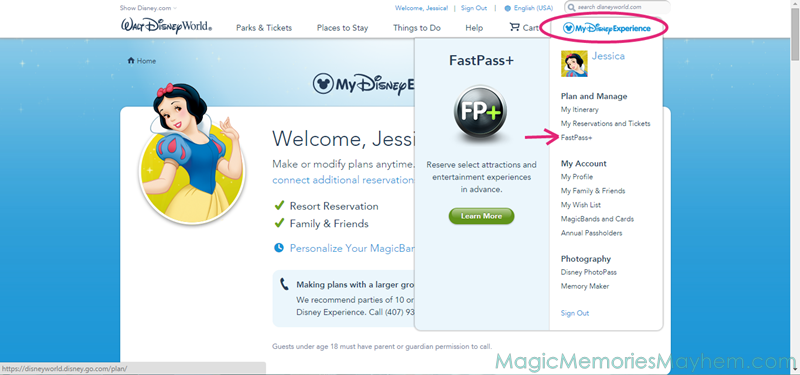 Hover over My Disney Experience then click on FastPass+.  And if you don't feel like an expert after your fun here on Magic, Memories, Mayhem, you can read more inside your account.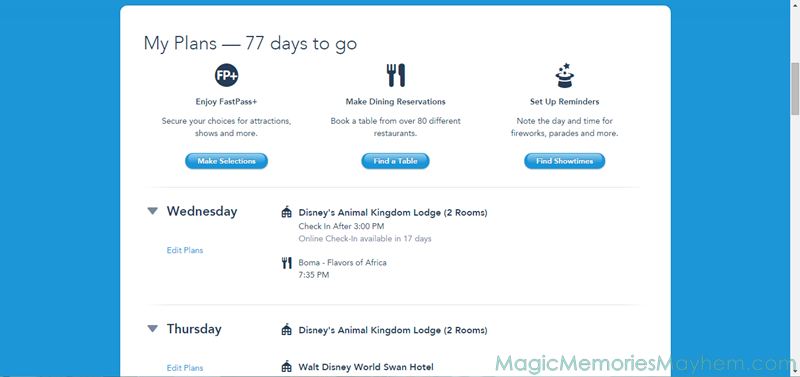 Or you can access the scheduler through your itinerary.
Ok, so now you're there.  If you don't have anything scheduled yet, "make selections" is the only option that is clickable.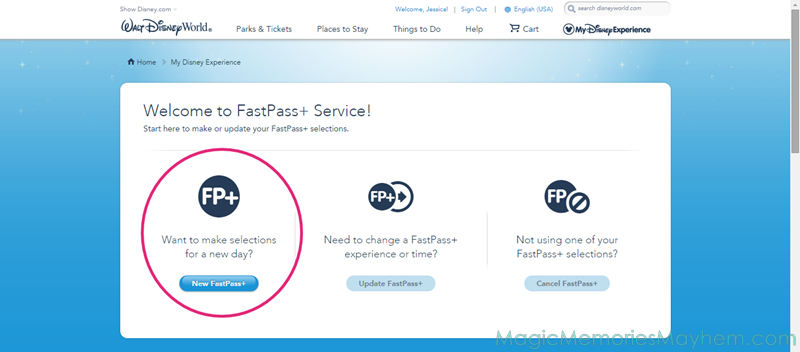 2. Choose the person(s) for whom you're scheduling FastPasses.
You can choose any eligible guests, but we're going to give Donald all the love today and get him set up for a day at Epcot.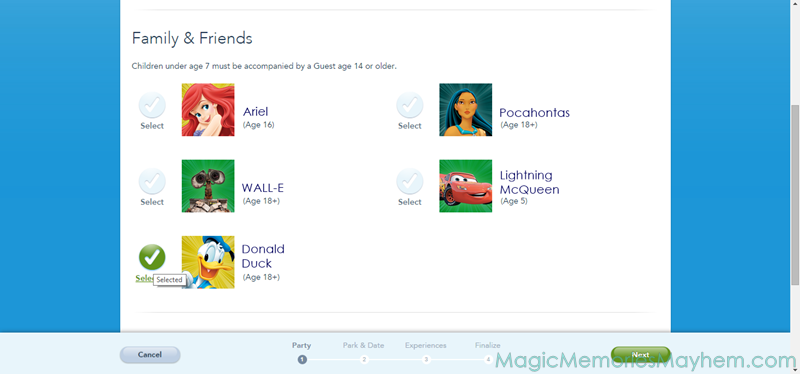 3. Choose the date and the park.
One day at a time, my friends. I usually start with the first day of my trip and move forward, but I often tell my guests to start with the day that has the most coveted FastPass they need (usually Anna and Elsa or Mine Train) and nail it down. Does that three minutes really make a difference? Maybe, maybe not. But do you really want to find out if it does?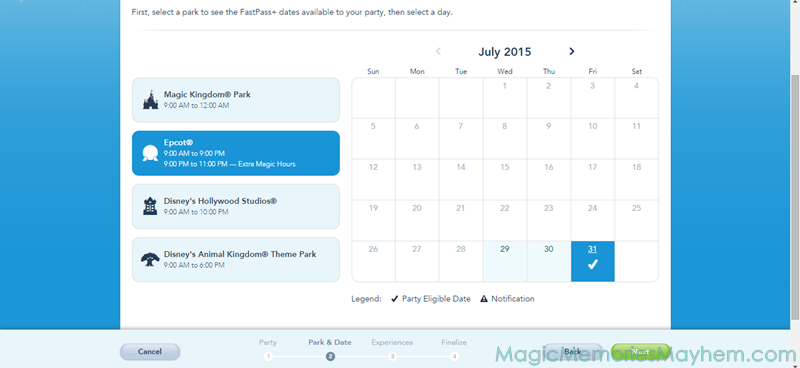 Ok, so Donald is headed to Epcot.  Yes, it's awesome (for ALL ages!), but I also want to show you about the tiered FastPasses.  Right now, they're at Epcot and Hollywood Studios.  And that brings us to step #4.
4. Choose your FastPasses.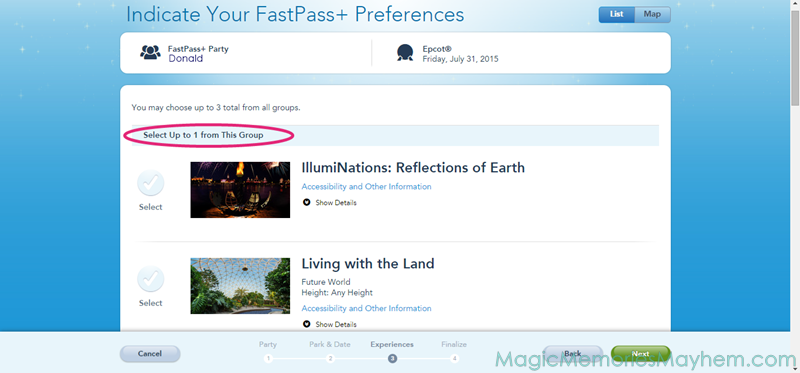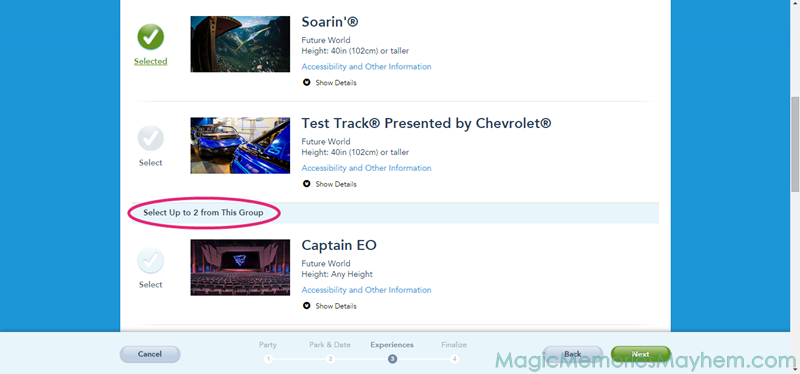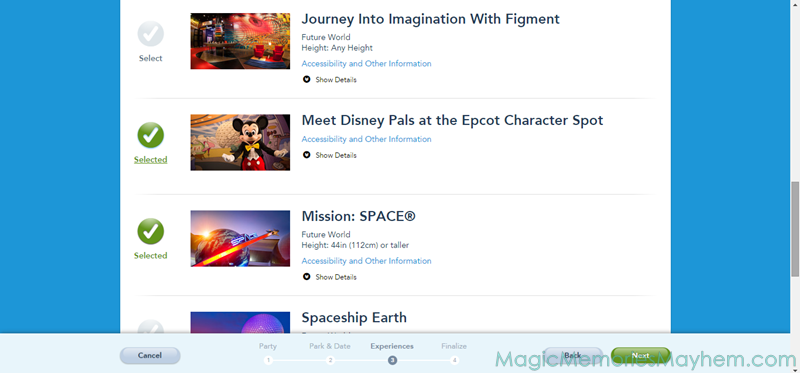 You can see that at Epcot, Donald can only choose one FastPass from the first group which includes the heavy hitters. And Living with the Land. What? Yeah. I don't know. I guess to pull newbies away from Soarin' and Test Track. He gets two options in the second group to round out the three pre-scheduled FastPasses for a grand day in the Experimental Prototype Community of Tomorrow.
5. Choose your times.
My Disney Experience will generate three or four options for you with preset times. They always think one is the "Best!" but I rarely agree. If nothing lines up for your ideal day, don't worry, we'll get to that. Just choose the closest option.  They also give you a nice little map on the bottom with your choices highlighted. Fancy, right?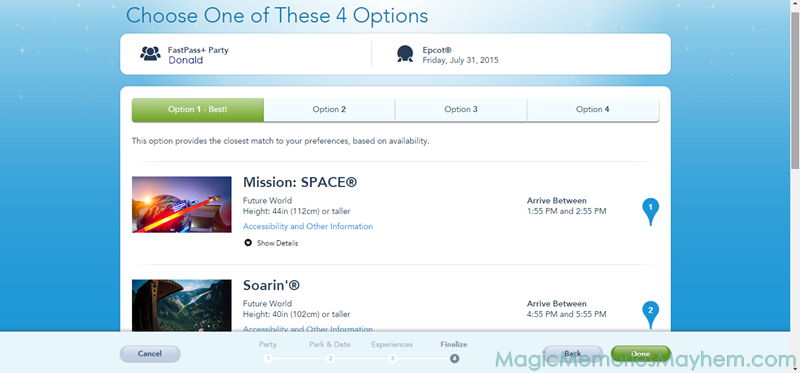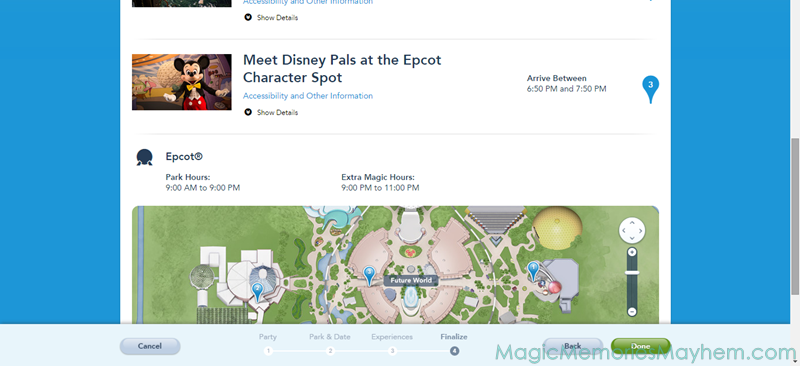 6. Confirm your selections.
Congrats! You just scheduled your very own FastPasses!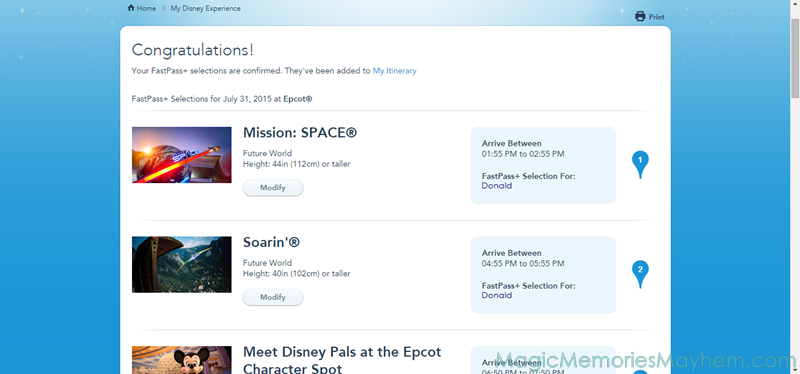 There's a pretty likely chance the Disney psychics were a little off, and you'll need to tweak your times a bit, or maybe you decided you'd rather take a nap spin in the big golf ball instead of meeting Mickey and the gang. Let's modify those FastPasses!
Modifying FastPasses in My Disney Experience
1. Get back to the scheduler.
You remember how to do that, right?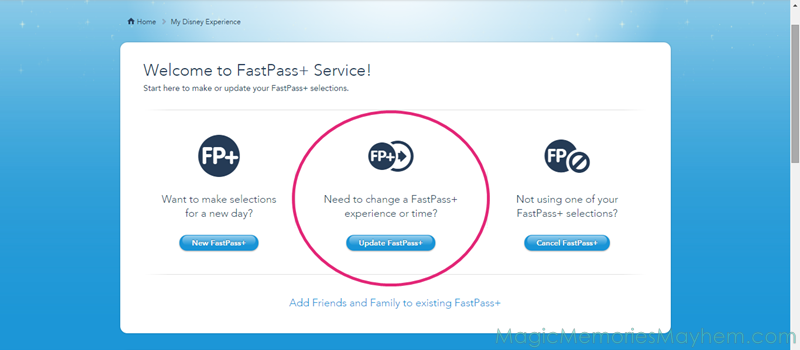 Now you have FastPasses scheduled, so you can click on "change a FastPass experience or time."
2. Choose the date of the FastPass(es) you're going to modify.
Donald is feeling a little iffy about his day in Epcot.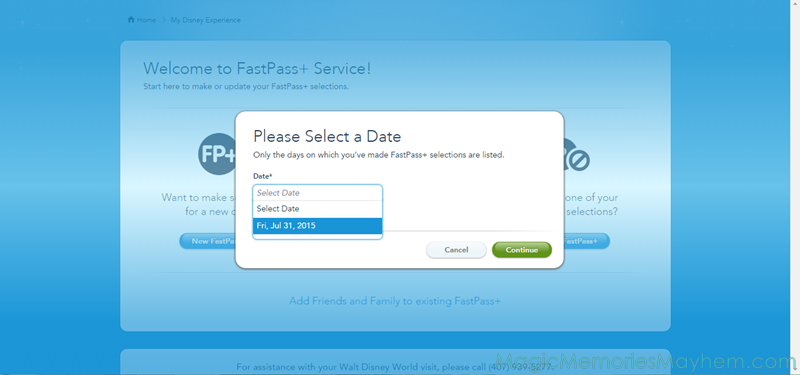 Now you have FastPasses scheduled, so you can click on "change a FastPass experience or time."
2. Select the FastPass you're going to modify.
You can only modify one FastPass at a time. Donald is getting a little nervous about the g-forces on Mission:SPACE, so he's going to see what else is available. Remember, with the tiered FastPasses, you can only replace a FastPass with one in the same group.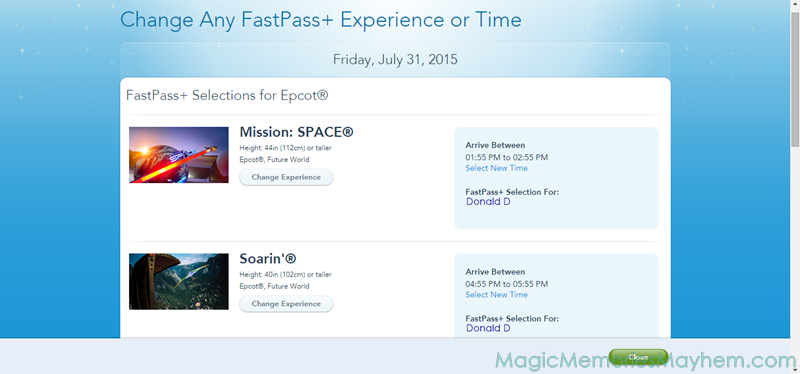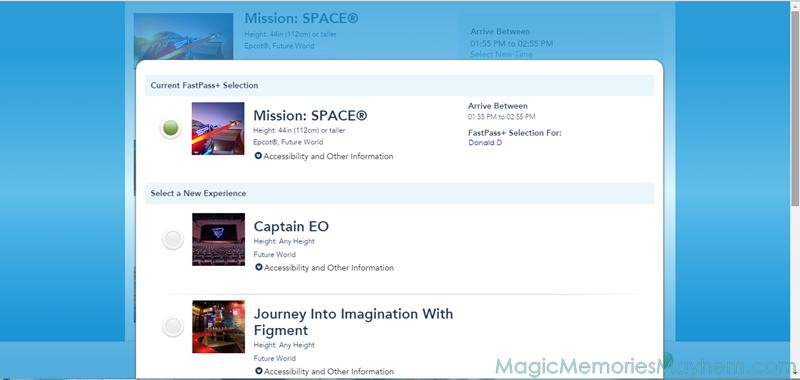 Donald YOLOs it but decides he'd rather hop on Mission:SPACE before lunch so he doesn't lose his soup and quackers. Yeah. I went there.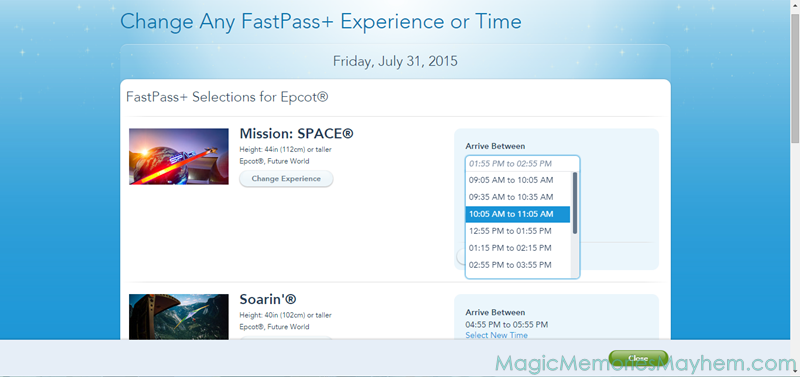 4. Confirm the modifications.
That's it!  You're on your way to the perfect schedule!  You can modify as many times as needed availability permitting.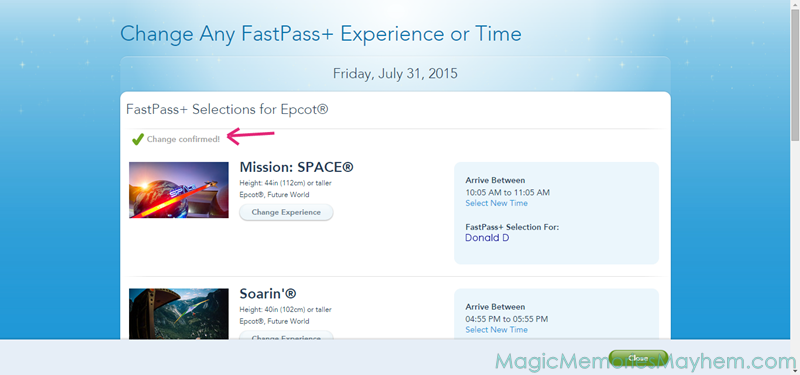 Canceling FastPasses on My Disney Experience
Oops! Donald forgot he had lunch at Be Our Guest, and he didn't spring for park hoppers this time. Now he's got to cancel his Epcot FastPasses so he can schedule a triple mountain whammy in Magic Kingdom.
1. Get to the scheduler.
But you knew that, right?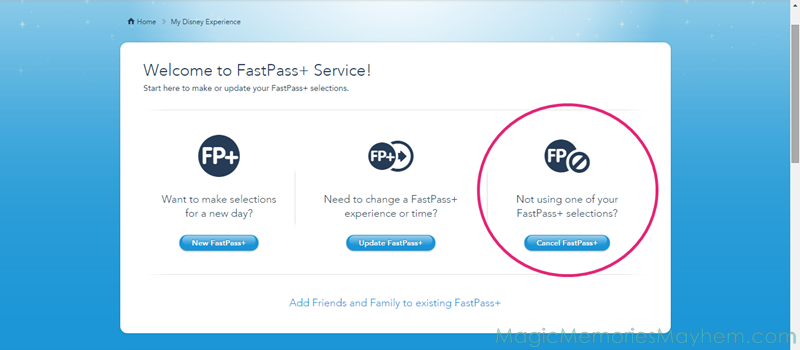 2. Choose the experiences you're going to cancel.
You can go one-by-one or wipe the slate clean, which is what #1 is going to do.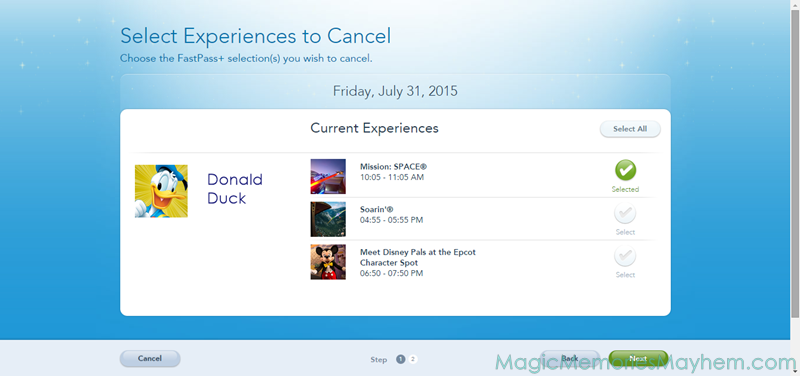 3. Confirm it.
Disney always double checks on cancellations of any kind.  Be aware that if you change your mind, there's a chance you won't get your perfect schedule back, so think it over before you click.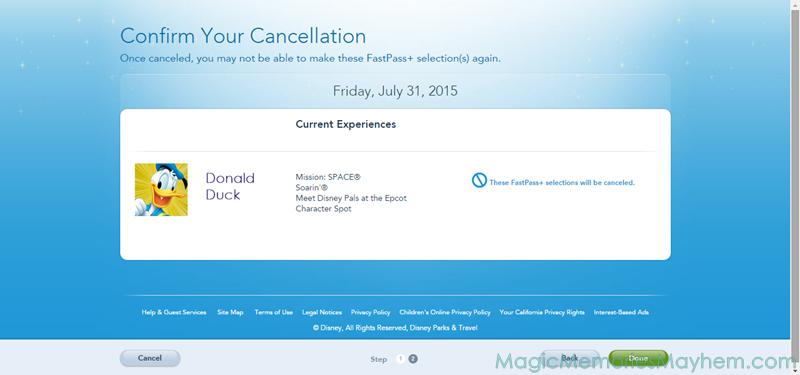 Donald is all set up for his Magic Kingdom day!  Even better, Lightning McQueen is coming to hang out, too!  Guess what…you don't have to go through all of the scheduling and modifying so your friends and family can try to match up their FastPasses to yours.
Copying Your FastPasses to Others in My Disney Experience
Can you guess where we're going first?
1. Get ye to the scheduler.
Yep.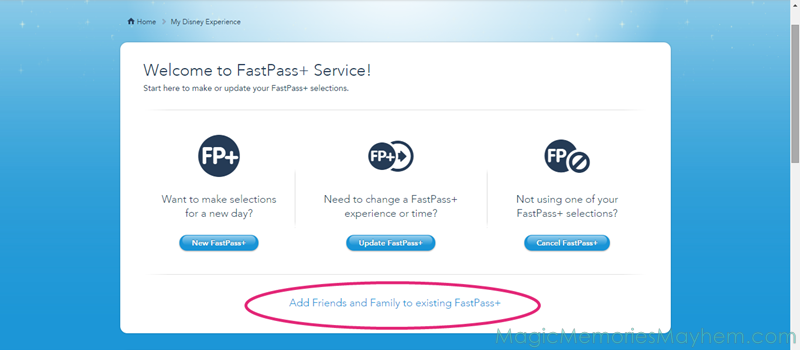 2. Select the date with the FastPasses you want to copy.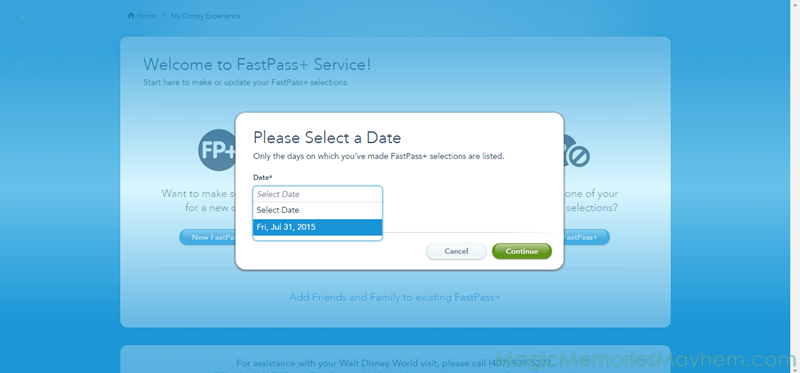 3. Choose the guest whose FastPasses you want to copy.
Donald is the only choosable guest, but let's say Bob and Helen were going to Animal Kingdom. If you wanted to meet the Yeti, you could choose one of them to copy.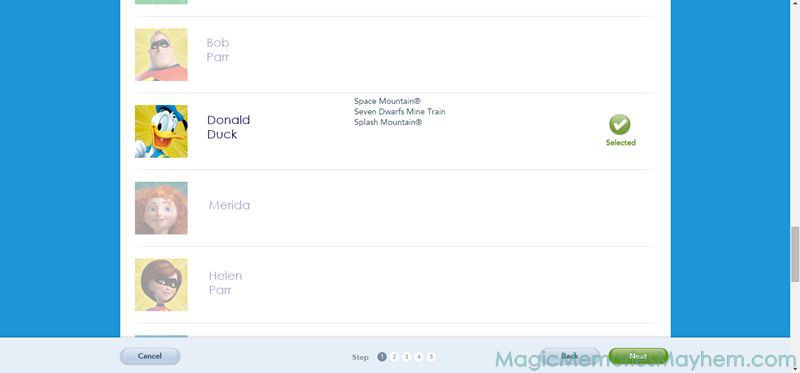 3. Choose the guest(s) to whom you want to copy the FastPasses.
Apparently Bob and Minnie aren't planning ahead and haven't purchased and/or linked their tickets yet.  Lightning is all set, though, so he and Donald are going to hang out at the Most Magical Place on Earth.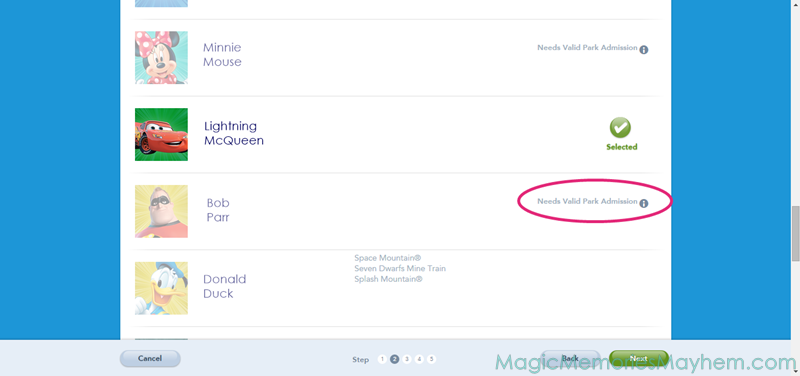 4. Check out your options.
Donald apparently swiped the last Mine Train FastPass, so the powers that be automatically gave Lightning a FastPass for Thunder Mountain.  Note that once he's scheduled, Lightning can go back and modify his FastPasses.  While Donald is on Mine Train, Lightning might prefer to ride something in Fantasyland, too.
Disney will try to substitute similar attractions if something is not able to be copied.  Additionally, if the exact times aren't available, they will try to get them as close as possible.  Sometimes it's just not going to work out, though, so be flexible, especially if you're planning last minute.  It's also sometimes fruitful to keep checking, as FastPasses are being modified all the time and experiences or times can open for booking.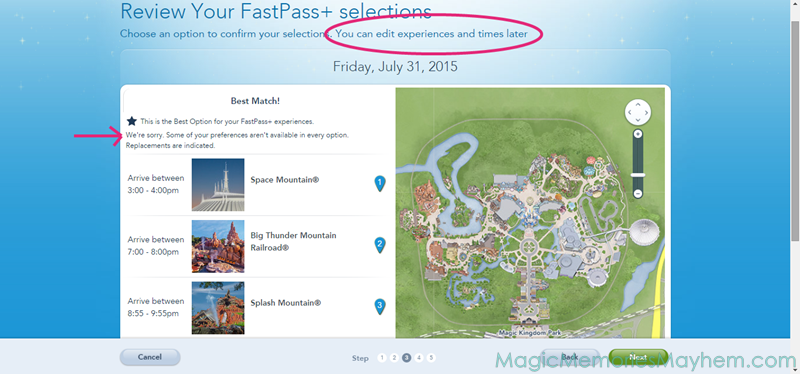 5. Confirm, confirm, confirm!
As always, we like to end with confirmation.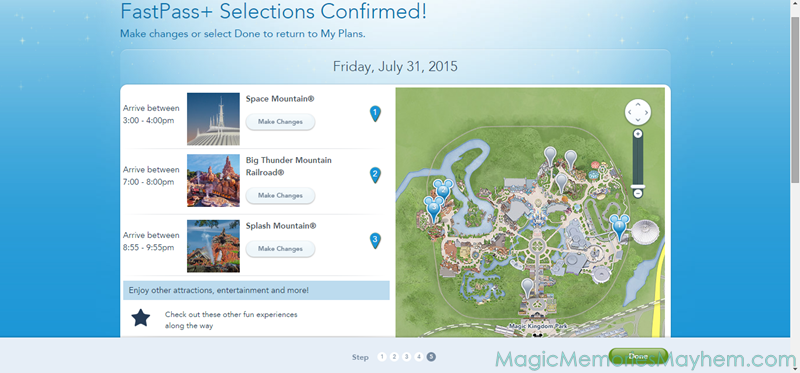 And those four things: scheduling, modifying, canceling and copying are basically all you need to do with your FastPasses.  If you didn't feel like a pro before, I bet you're on your game now.  Go forth and FastPass!