Disney's Beach Club is a fantastic resort in an unbeatable location (hello Epcot!!) with two parks within walking or boating distance, as well as the Boardwalk entertainment area just across Crescent Lake.  It's perfect for families who want to take a break during the day due to its proximity to half of the major parks and its awesome pools!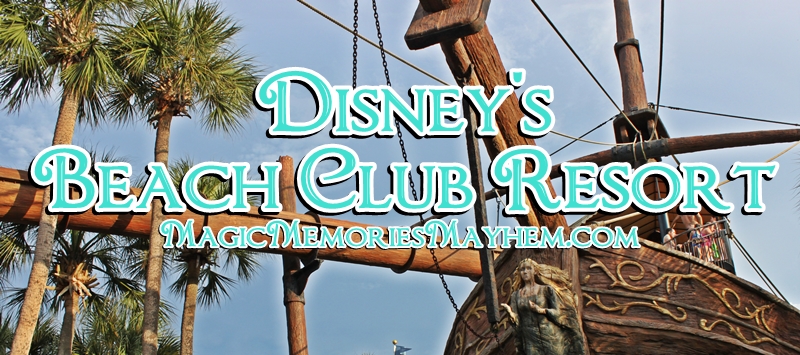 Disney's Beach Club Resort
1800 Epcot Resorts Boulevard
Lake Buena Vista, FL
(407) 934-8000
Lobby | Shopping | Guest Rooms | Club Level | Dining Options | Recreation | Around the Resort

Rates: $355/night + (see Disney's rooms and rates page for exact pricing)
Room Occupancy: 4/5 (standard), 4+ (suites) (see Disney's rooms and rates page for exact occupancy)
Transportation: FriendShip Boats/Foot (Epcot, Boardwalk, Hollywood Studios)
Bus (Magic Kingdom, Animal Kingdom, water parks, Downtown Disney)
Guest Rooms
Disney's Beach Club offers standard rooms that sleep 4 or 5, as well as club level suites.  Standard club rooms are also an option.  Room views include standard, garden/woods and pool/lagoon.  Studios and one and two bedroom villas are available on the villa side with the studios offering lake, pool or courtyard views and the villas offering standard, woods, pool or courtyard views.
Standard Room
Standard rooms offer two queen beds or one king bed, as well as a daybed in select rooms.  A desk/table and chair, vanity area with double sinks, safe, iron and ironing board, mini-fridge, coffeemaker, microwave (upon request) and balconies/patios are also included.
Deluxe Room (Club Only)
Deluxe rooms sleep up to 5 and feature two queen beds and a day bed with a small seating area and a larger room.
One Bedroom Suite (Club Only)
A one bedroom suite sleeps up to 3 and includes one king bed and a day bed, as well as a loveseat.
Two Bedroom Suite (Club Only)
A two bedroom suite sleeps up to 7 in a king bed, two queen beds and a day bed.  The suites also includes a small seating area and wet bar.
Beach Club Villas
Deluxe Studio
Deluxe studios sleep up to four with one queen bed and one double sofa, as well as a kitchenette and table and chairs.
One Bedroom Villa
A one bedroom villa sleeps up to 4 and includes one king bed and a queen sleeper sofa.  You'll also enjoy a full kitchen, jet tub and washer/dryer.
Two Bedroom Villa
A two bedroom suite sleeps up to 8 in a king bed, two queen sleeper sofas and a queen bed.  Here you'll also find a full kitchen, two bathrooms (with jet tub) and a washer/dryer.
Cape May Cafe
Just off the lobby, the Beach Club's table service buffet hosts a beach party with Goofy and friends for breakfast and a New England clam bake buffet for dinner.
Beaches and Cream
This teeny table service alongside Stormalong Bay is an oft overlooked gem.  Sure, you could just stop in to refill your mug or grab an ice cream cone, but try to find a moment to sit for a meal (amazing burgers!) or take the plunge and get the Kitchen Sink ice cream sundae!  Now that Beaches takes reservations, it's cut down on the once crazy wait times, so grab a time while they're available and get ready to dive in!
Beach Club Marketplace
Situated in the rear of the gift shop, the Marketplace offers grab and go goods, a small grocery area and hot sandwiches, flatbreads, soup and more.  Even when not staying in the Epcot resort area, we love to stop in for a flatbread or cup of chowder to enjoy in the Solarium.
Hurricane Hanna's Grill
Hanna's poolside offers burgers and other quick service fare for guests hanging out at Stormalong Bay or just passing by.  It also serves as a mug refill spot.  Kids' meals come in a bucket perfect for building castles on the sand bar!
Martha's Vineyard
Hidden at the very end of the Beach Club's interior hallway (just before heading out to Stormalong Bay), Martha's boasts a full bar and serves up appetizers to those needing a quiet place to wind down after a day at the pool or the park.
Private Dining
Room service is available 24 hours.
Recreation
The Beach Club, along with its sister resort, the Yacht Club, feature arguably the best pool area on property!  Stormalong Bay features water slides, sand bottom, a whirlpool, lazy river, sand bar and more!  Complimentary life jackets are also available.
The Ship Shape Health Club features fitness equipment and salon and spa services.
The Sandcastle Club is a convenient option for parents who want a night out, perhaps across Crescent Lake at the Boardwalk, and who have (potty-trained and anti-pull-up) children 3-12 years old.  Dinner is served between 6:00 and 8:00 P.M., and you gotta get the kidlets by midnight, or they turn into pumpkins.
Or maybe you'll decide to end the day all together with some campfire fun and a Movie Under the Stars.