Disney's PhotoPass is the complimentary photography service at Walt Disney World.  Hundreds of photographers are stationed around the Walt Disney World parks and resorts on any given day, and if you want to prove you were on the vacation (because, if you're here planning, you're probably behind the lens most of the time, am I right?), they'll be your new best friends.  If you purchase Memory Maker, you'll also want to get as many pictures taken as possible to make it worth your while.  With that in mind, here are the top ten places to find PhotoPass photographers and show off the kids' customs, the matching tie-dye and, of course, your dazzling smile.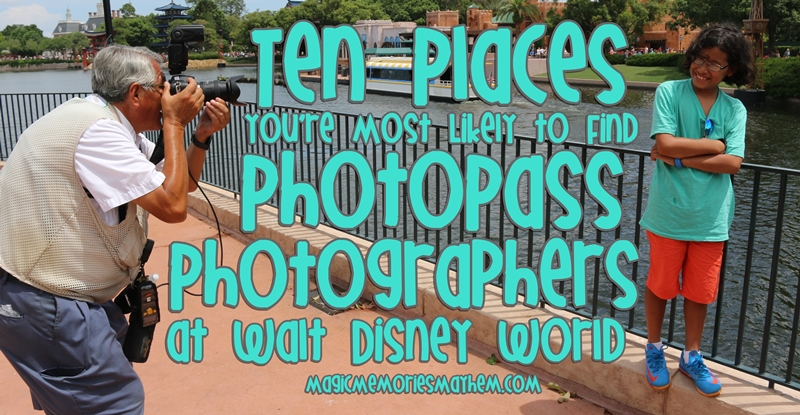 1. Almost Anywhere Within View of the Front Gate
Park entrances, icons (Cinderella Castle, Spaceship Earth, etc.) and main drags (Main Street USA, Sunset Boulevard, Hollywood Boulevard, etc.) are pretty much guaranteed spots to find a host of photographers ready to take pictures of your gorgeous face.
2. Characters
Characters are your next best bet.  Photogs are available for several but not all character meet and greets.  Most established spots (Epcot Character Spot, Town Square Theatre, etc.) will have PhotoPass available.
6. Anywhere Guests Take Center Stage
Performance opportunities (Jedi Training Academy, Enchanted Tales with Belle, etc.) and makeover spots (Pirates League, Bibbidi Bobbidi Boutique) also offer PhotoPass for participants.
8. On Select Rides
Your photos are also taken on select rides for you to cringe at or cherish and share on social media.  Prepare yourself on Buzz Lightyear's Space Ranger Spin, Seven Dwarfs Mine Train, Space Mountain and Splash Mountain in Magic Kingdom.  At Epcot, you only have to be ready for your close-up on Test Track.  Say "AHHHH!!!" on Rock 'n Roller Coaster and Tower of Terror at Hollywood Studios.  Expedition Everest and Dinosaur capture your looks of concern or fear in Animal Kingdom.
10. Select Dining Locations
Select dining locations offer backdrops or characters and a PhotoPass photographer.  All but Be Our Guest offer photos before you eat, so no worries about having your spilled dinner immortalized.  At least not in your PhotoPass photo.  Optional pics are offered at 'Ohana (breakfast), 1900 Park Fare (breakfast and dinner), Akershus (all meals), Be Our Guest (dinner), Chef Mickey's (all meals), Cinderella's Royal Table (all meals), Tusker House (all meals) and the three dinner shows: Hoop Dee Doo Musical Revue, Mickey's Backyard BBQ and Spirit of Aloha.  Photos area also taken at Hollywood and Vine and Sci-Fi Dine-In Theater during special Star Wars Weekend meals.
11. BONUS: Water Parks
Here's an extra one for ya!  Did you notice a few pics up there had us sporting swimsuits?  The PhotoPass crew is also at the water parks!  Sometimes they are literally in the water with you, which I think is awesome!  This may strike fear in the hearts of some of you, but embrace it.  Years from now when the kiddos look back on the pics, they're not gonna care what you look like in a swimsuit.  Say cheese!
In addition to these fairly established photog spots, you can often find them roaming the parks.  If you see someone with a camera and a snazzy PhotoPass vest they'll likely snap a pic for you, so don't be afraid to ask.  And now that you know where to find them, go practice your poses!
Let's start planning your trip full of Magic, Memories and maybe even a little Mayhem!