Garden Grill is probably the hidden gem of character meals.  Located in The Land in Epcot, thousands of people breeze right past it on their way to Soarin'.  This rotating restaurant plays host to Chip 'n Dale and, usually, their pals Pluto and Mickey while it offers diners a view of a portion of the Living with the Land attraction.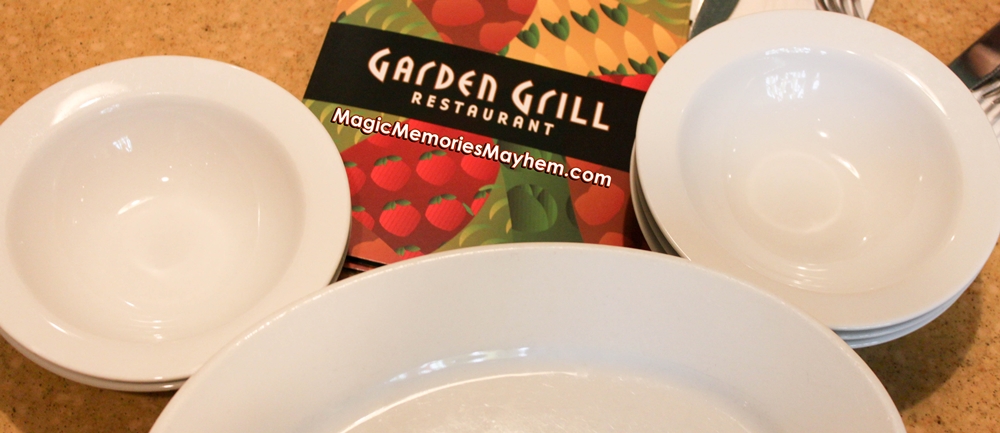 As noted, the restaurant rotates (very slowly…you are eating, after all!) offering views of the Sunshine Seasons balloons (and other guests milling about), Living with the Land and a mural of, well, leaves. There are two levels to the restaurant. On the bottom level, there are booths facing outward, which is nice but can be slightly awkward when you get to the portion where other guests can watch you dine. Haha! They've had trellises up in the past, but I think they come and go. The second level is for smaller parties and feature tables and chairs. We much prefer the bottom level for comfort and atmosphere.
Food
We LOVE dinner here! Breakfast and lunch have also been added, but we haven't tried either of those yet. I believe lunch is very similar to dinner if not identical. Some of the food served is actually grown downstairs (at least that's what they say, and life is more fun when you believe it)! Meals are served family style, and they'll keep bringin' it if you keep eatin' it! The offerings may change a bit here and there with the season or the chef, but we haven't had a dud yet!
Characters
The food is yum, but the characters are what initially brought us to Garden Grill. We'd heard that they were some of the most interactive characters at any meal…and they were right! Some meals, the characters seem to be a little rushed (looking at you, Chef Mickey's), but since the restaurant is small, the characters spend quite a bit more time at the tables when guests are playful. We've had some super fun interactions here with all of the characters, and it's one of the meals I recommend to character lovers just for that purpose. We've also had characters visit multiple times per meal every time we've visited.