Hey Disney geeks! One of my great friends (and guests!) recently returned from a fantastic 7-night Caribbean cruise on the Disney Fantasy and just raved about her excursion. Being a good blogger, I sweet talked her into sharing her experience here! Neither Michelle nor I were compensated for this post. But I'm sure neither of us would turn is down. 😉
---
If you are looking for something to do on your stop in Tortola on a Disney cruise I have the best suggestion for you!  None of the Disney excursions really interested us so we decided to book a private excursion with another family from our cruise.  We chartered a boat for the day from Good Day Charters.  They are absolutely amazing.  They are based out of St. Thomas but met us at the dock in Tortola.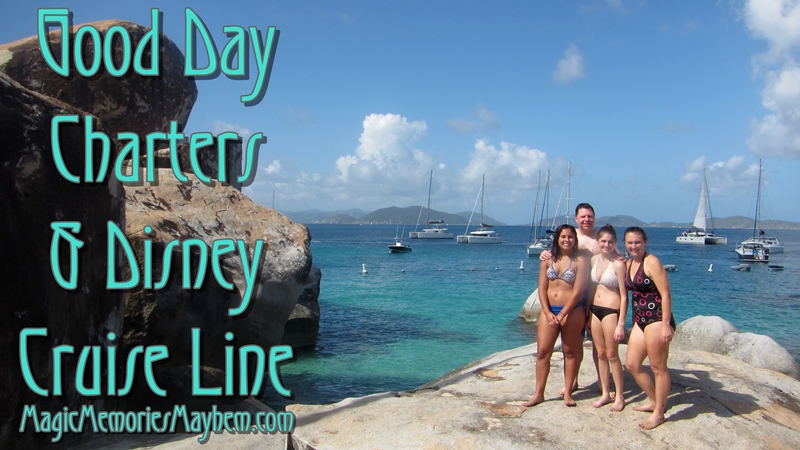 Within minutes we were on their boat discussing where we would go for the day!  Every trip with them is custom made to take you wherever you want to go. There were 4 in my family and 3 in the other family and with 3 crew members 10 total on the boat and it never felt crowded.
We wanted to see the Baths so we went there first.  Had the option of swimming in from the boat or they would take us to the dock.  We were up for an adventure so we grabbed a swim noodle (we may be adventurous but swimming isn't our strong point lol) and jumped off the boat and headed to shore.  Two of the crew members swam in with us and led us around the Baths and helped with directing traffic when it got crowded in areas.
Swam back to the boat after a bit and headed out to another spot to do some snorkeling.  Crew member Matt went snorkeling with us to show us some cool things.
After all that swimming we were starving so Captain Stan took us to an amazing restaurant on Norman Island right on the beach.  Thankfully there was a dock because I really didn't want to swim to lunch!  Lunch was amazing and the view was phenomenal.  Drinks weren't too bad either!!
Headed back out to see a few more things after that but we were all too tired to do anymore swimming so we just enjoyed the boat ride!  Got us back to the dock around 4:30 in plenty of time to make our 5:45 on board time.  They were totally professional, every trip is custom made to your wants/needs, and they know the best spots to go if you have no idea what you want!! Tortola is a new port for Disney and there aren't a lot of options for excursions so if you are looking for a fun day on a boat give these guys a call!
Let's start planning your trip full of Magic, Memories and maybe even a little Mayhem!