A few months ago I was perusing Pinterest (why do all my crafty posts start this way?) and ran across a pin for this Lilyshop Blog tutorial on coloring mason jars.  It seemed easy enough, so I pinned that bad boy and tucked it in the back of my mind.  Well, the snowed and iced in days of December came, and I was looking for something to entertain myself before I developed full-blown cabin fever.  It just happened to work out that I had all of the supplies needed for this project, so I got down to business!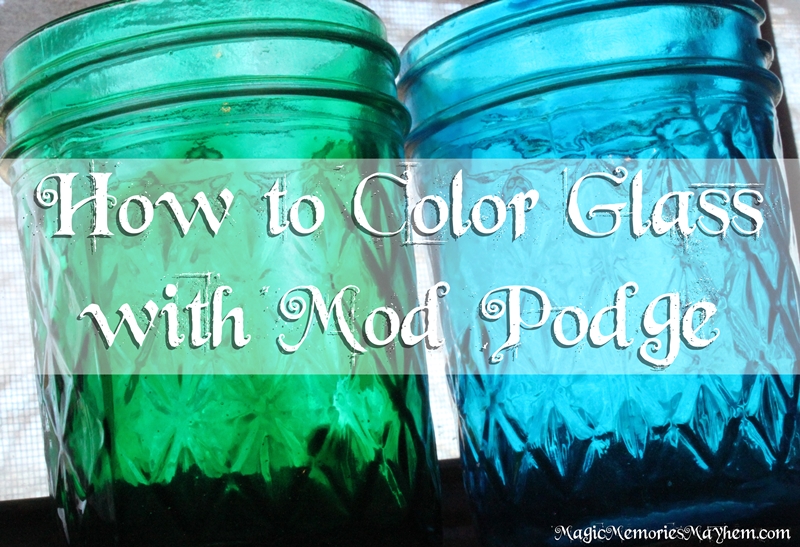 Whatcha Need:
Mod Podge
Food Coloring (I used gel because it's what I had lying around, but anything works)
Glass Container (I used a mason jar in this tutorial because, as she says on Lillyshop, they're just too cute!)
Stick (or something to stir with; I used a paintbrush)
Whatcha Do:
1. Pour in Your Mod Podge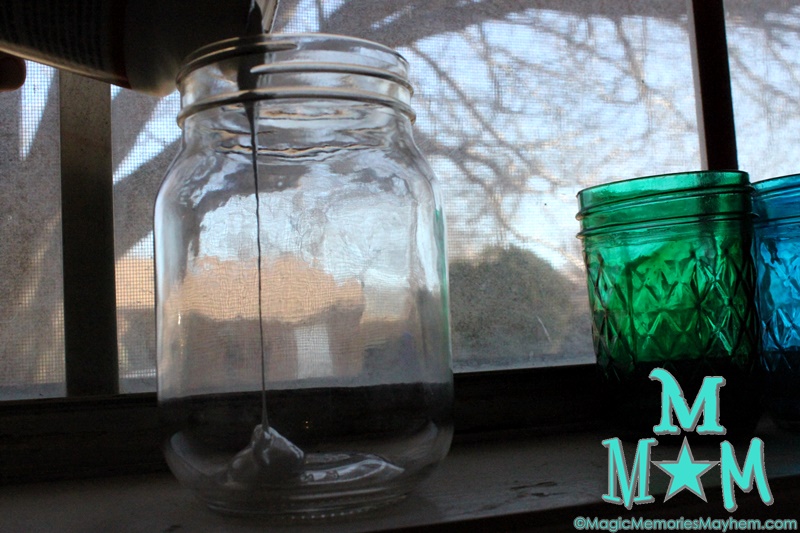 I'm sure there's a really scientific way to measure the amount of Mod Podge, but I usually eyeball about 1/8 to 1/10 of the glass and fill it to that point.  If you don't have enough, you can always add more.  If you have too much, pour it into another glass container.
2. Add Your Color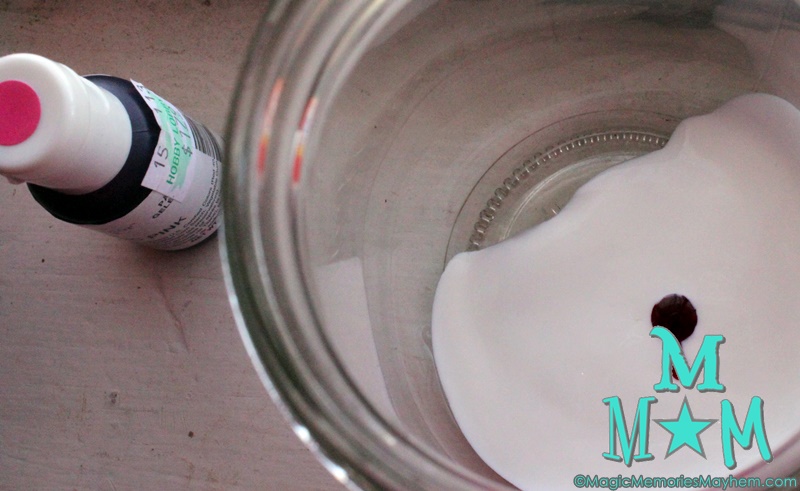 I went with Electric Pink this go-round after having only had cool colors on hand while I was playing around the first few times.  Another thing I learned is you don't need a ton of food coloring.  I squeezed a buttload of it the first few times thinking it would be darker, but since it dries clear, there's not a whole lot of difference.  This teeny drop is all I used for the pink jar, and I got as much coverage and depth as I did with the other ones.
3. Mix it Up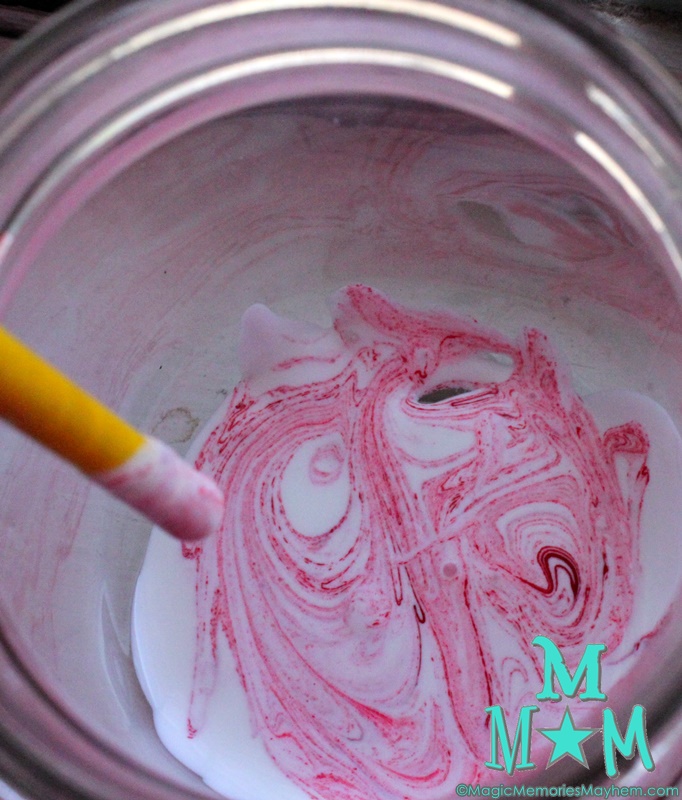 Make sure you incorporate all of the Mod Podge.  It can be a little stubborn when it's right up against the glass.
4. Coat the Glass
Just turn and roll the container until the inside is entirely covered with color.  In the original tutorial, she warns against using your stick or a brush to spread the color because it might leave streaks or marks.  While I didn't use it to spread, I did have success using the end of the stick to "fill in" some of the holes.  You can also use it to pop some of the bubbles.  They're more visible in the wet Mod Podge than they are when it's dry, but I still try to pop as many as possible.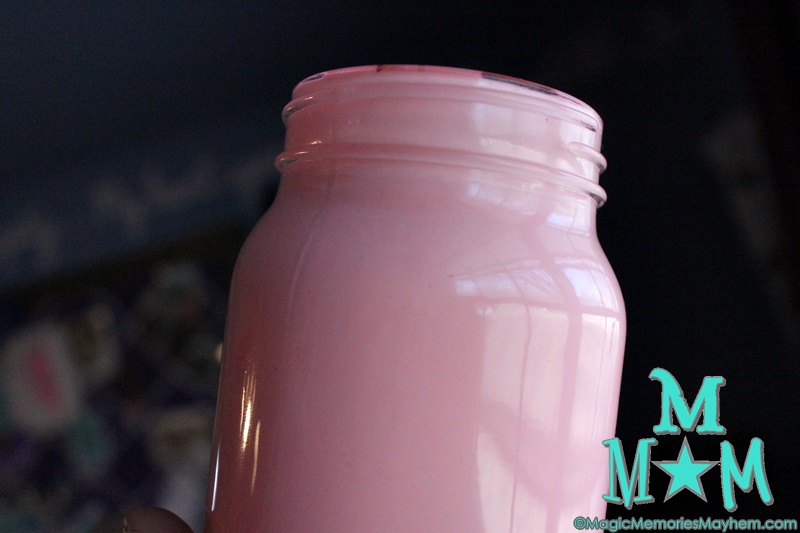 5. Drain the Excess & Let it Dry
You can flip your glass over on a plate (I used a plastic lid from a bucket of candy), or you can let it drip into another glass.  I tend to let it sit about a half hour.  Sometimes as it's dripping, you'll get naked spots.  I just fill those in by dipping the stir stick into the excess and barely touching it to the empty spots.  After you're satisfied that most of the excess is out, flip it right side up again and let it sit for a day or so.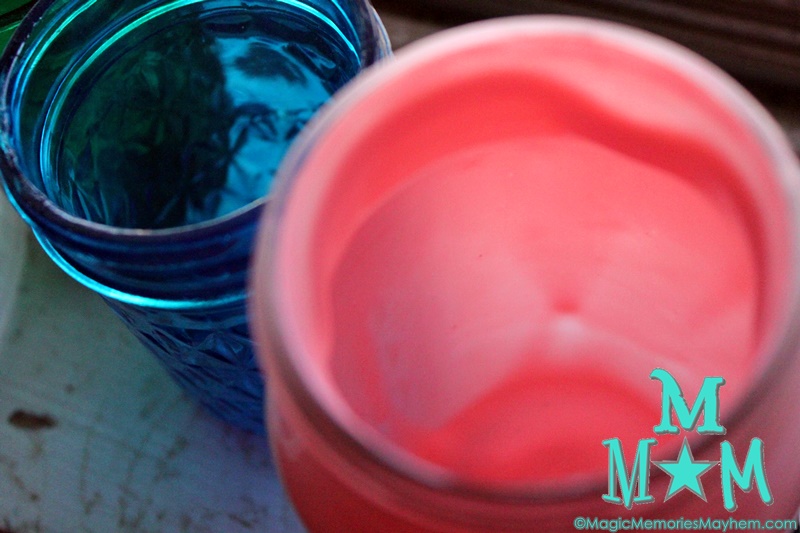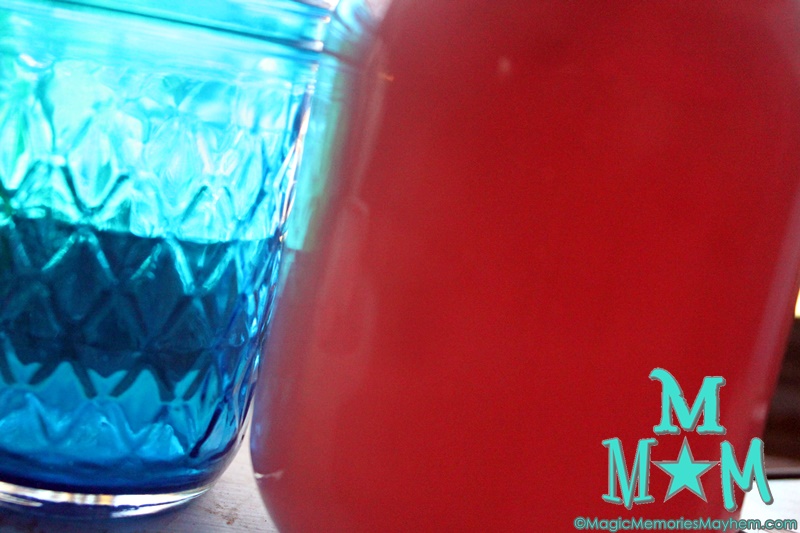 Et voila!  A fun colored glass!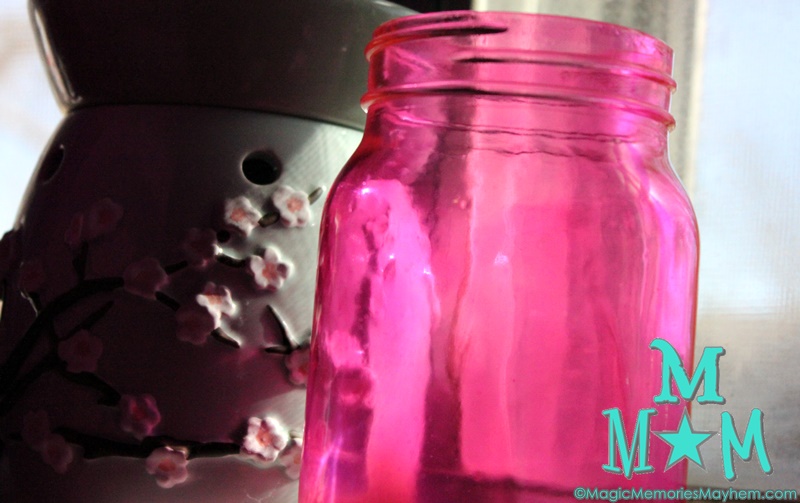 Here's one of the best parts of this project: hate it?  Just peel it out and start all over again!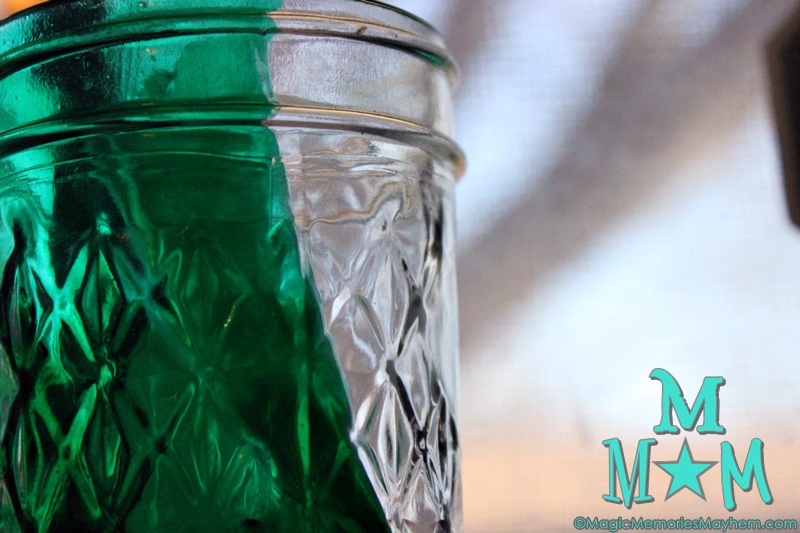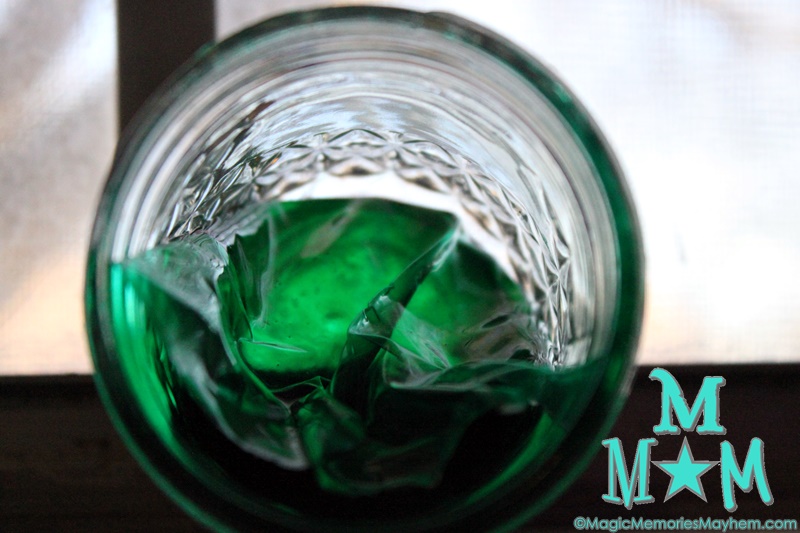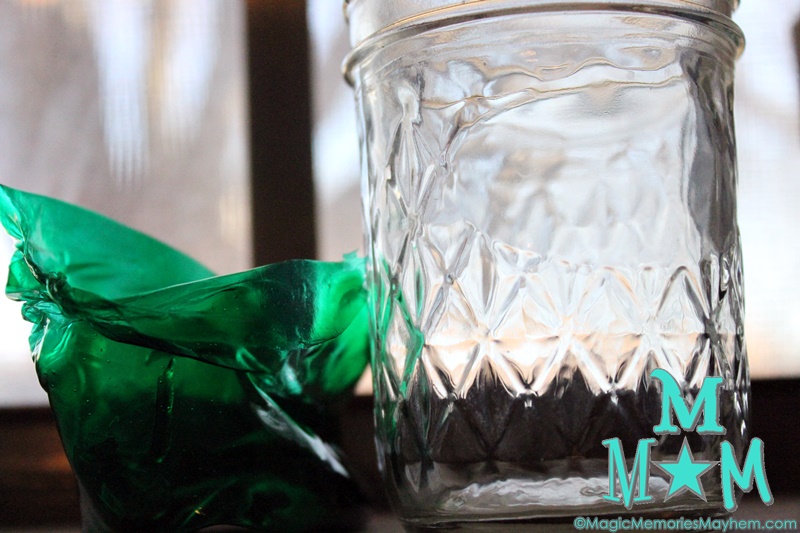 As a matter of fact, the now-pink jar was originally burgundy.  At least that's what the food coloring cap said, but it turned out looking like an ugly brown pharmaceutical container.  The pink is better.
P.S. I don't normally craft on my window sill, but the lighting and ventilation made it seem like a nice spot to do a little Mod Podging.
So, after my first jar, I went a little crazy coloring anything glass that wasn't already filled with something.  Ok.  I might've dumped out a couple of containers, too.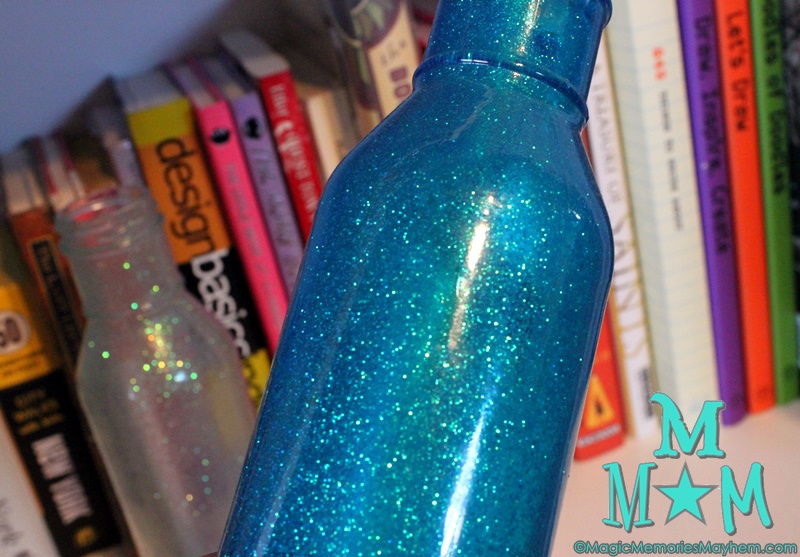 I even did a couple of clear glass Christmas ornaments, but the opening on those things is so tiny that they're STILL NOT DRY, and it's been over a month!!
If you want to add some sparkle, just shake in some glitter while you're mixing in your color.  I had very fine pixie dust-type glitter, but I want to try bigger glitter, too.  The blue bottle in the foreground is food coloring and glitter (and ended up looking like Crest kids' toothpaste), while the jar in the background is just glitter and Mod Podge.  Experiment, play, go crazy, like I said, if it's a flop, you can have a clean glass again in about ten seconds.
Oh, and seeing as it's dried chemicals, you're not going to want to put anything edible in these jars, and I'm not too sure how it would react to liquids.  Play it safe and throw in your lipglosses or use it to hold pens or anything else that doesn't go into your mouth, hmmkay?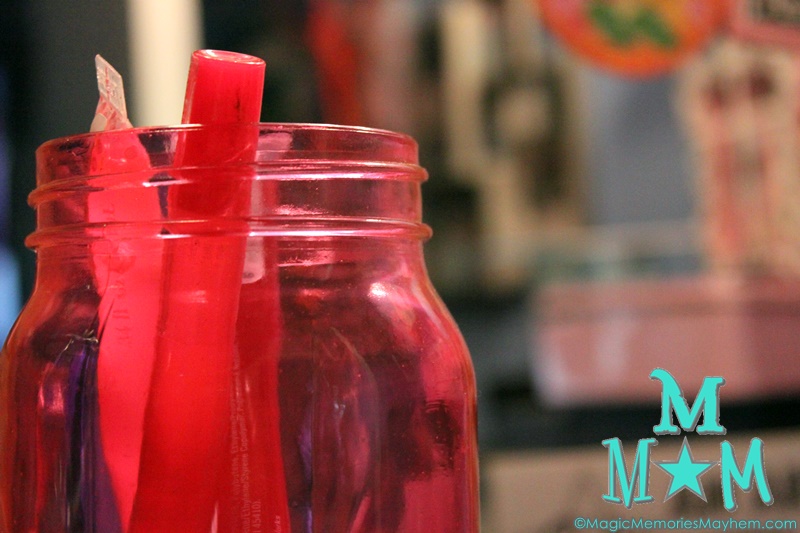 And while you're here, I'll show my little bonus project!
Since I had the Mod Podge out, I decided to try my hand at plussing my boring picture frame key hanger,  I should interject that I can't Mod Podge in the traditional sense to save my life.  If I'm trying to use it to decoupage, it's always a big, bubbly, wet, rippy mess.  However, I saw some CUUUTE projects around the Disney nerd community and couldn't resist.  And, if I do say so myself, my endeavor turned out pretty well!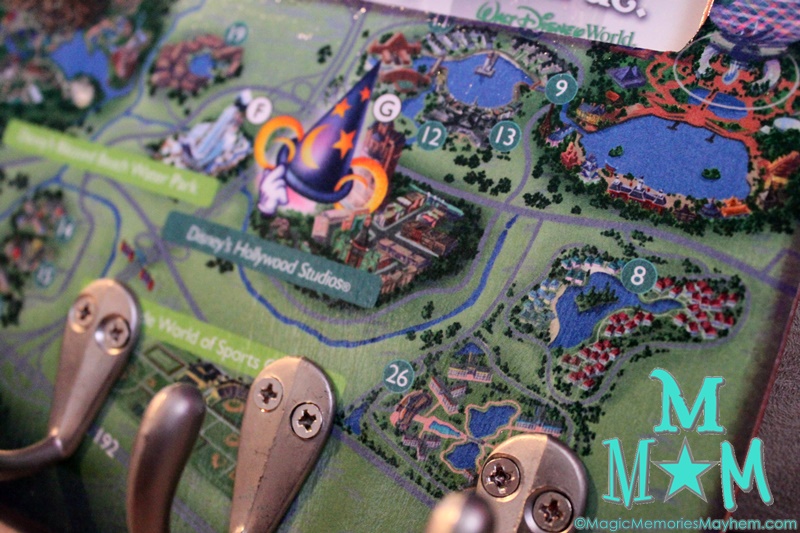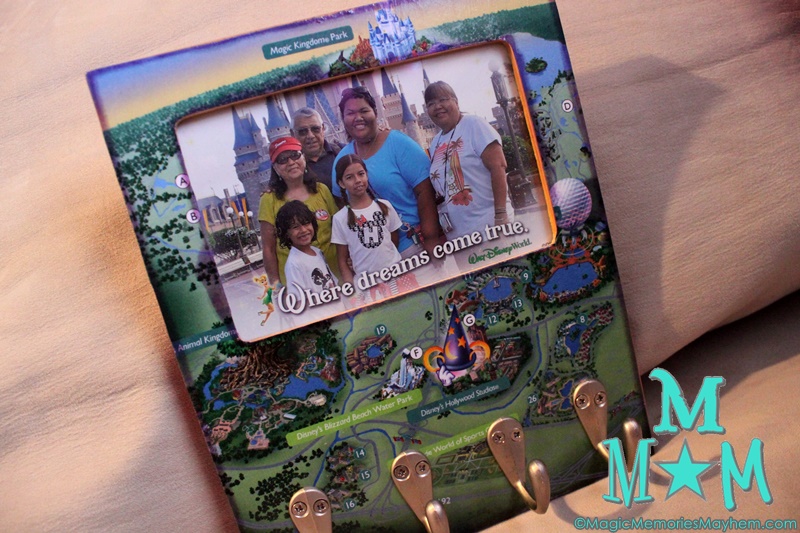 And there you have my crafty fun for the week!  If you rock out either project, let me know!!  As always, pictures or it didn't happen!