I feel the need to warn you that this is probably gonna get a little whiny.  I knew going into this that I'm not so much a camping kinda gal, but I was genuinely excited to try out the cabins at Fort Wilderness.  While I did enjoy the campground, it's not on my short list for the next few trips.  Again, we did have a good time, but here are a few things you should know if you're kinda, sorta, maybe a little bit of a princess who's easily lost in the woods.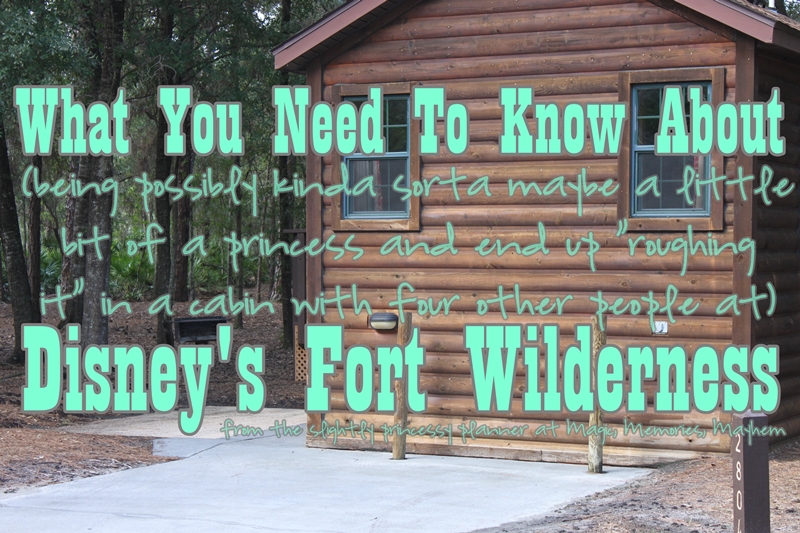 Pack Light
First things first…storage, or lack of, to be exact.  Honestly, if this could be remedied, I'd really be willing to overlook everything else that I wasn't a huge fan of when it comes to campground life at Walt Disney World.  HBelle, Stitchy and I bunked with a friend of mine, Sarah, and her daughter in one of the cabins, which can sleep up to six.  While this is definitely possible physically (there are enough beds for six people), the five of us were struggling to find spots to put our stuff.  The kiddos and I camped out in the bedroom while Sarah and her little took the living room.  In the bedroom there were a few teeny, shallow drawers and a "closet."
Inside the closet was one luggage rack (for up to six people, remember) and a Pack 'N Play leaving little space for anything else.  In the future, I'd definitely ask mousekeeping to take the Pack 'N Play for the duration of our stay.  Unfortunately, there's no space in the bedroom to put the luggage rack so it stayed in the closet with HBelle's suitcase on it since there was no where else for her to put her clothes.  There is a high shelf in the closet that I hoisted our suitcases onto and stuck Stitchy's packing cubes book style since (see a pattern emerging?) there was no where for him to put his clothes.  I happened to have a Thirty-One Large Utility Tote with me that served as the food storage for the road trip.  This was my drawer, and, luckily, there was just enough room behind the bedroom tv to slide it in.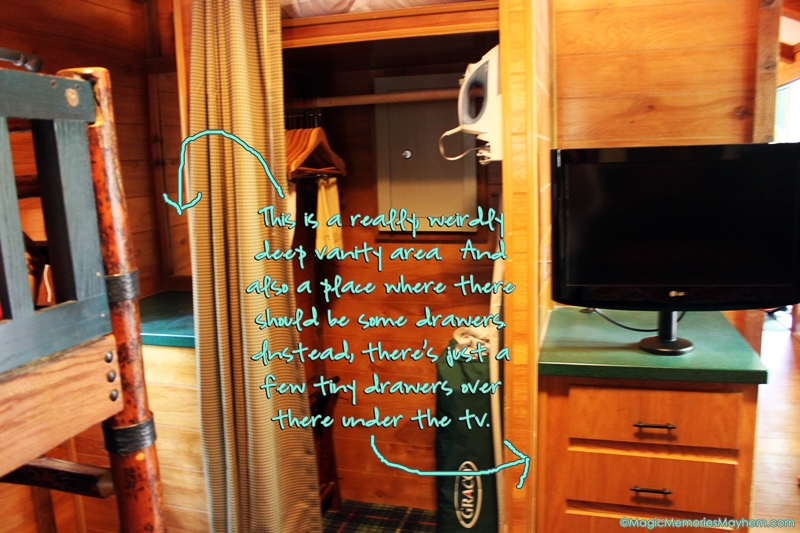 Now, I'll take some of the blame for this because, even though I thought they'd be soooo over dressing up at this age, the kidlets still have a few costumes and customs they wanted to wear for special dinners and such.  Since I thought those days would be long gone, I'm milking every last moment, so there was a hoop skirt and two garment bags in the closet that the average traveler may not be lugging around with them.  We did use the drawers for our unmentionables, socks, swimsuits, PJs and a few odds and ends.  We did make lots of creative use out of curtain rods to hang hats and the window sills to store extra items.
There are a couple of cabinets in the living room area, but the girls ended up leaving everything in their suitcases and sticking them on a table.  There is an awkwardly deep pantry with really spaced out shelves that could possibly be used to for suitcase storage for guests bunking in the living room.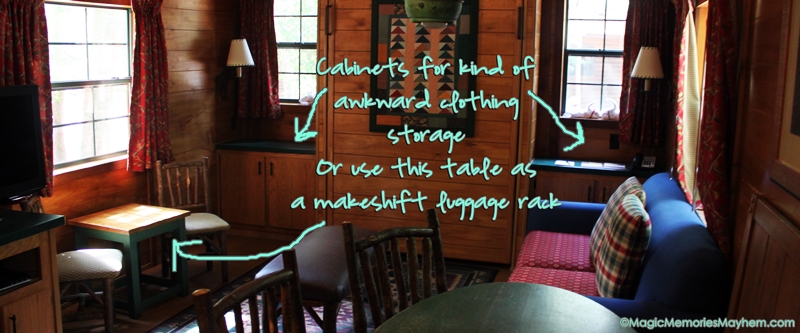 Getting Around the Resort
I'm not gonna beat around the bush.  Unless you're bringing your own (or some other non-car transportation like bikes or scooters), you're gonna wanna shell out the $62 a day for the golf cart rental.  There is very limited parking throughout the resort unless you're tooling around in one of the carts.  For us cabin dwellers, there's about a ten minute walk to the Meadows Trading Post for food, drinks, gifts, etc.  Otherwise, you'll hop on one of the internal buses that will get you there in about five minutes including the stops along the way.  However, the wait for the bus is variable.  We never waited less than about seven minutes, sometimes up to fifteen.  If we were spending more time at the campground, I would've 100% rented one of the carts, but with us being at Fort Wilderness for just a couple waking hours a day, it just wasn't worth the investment.
Near the trading post is the feature pool and a small snack shack, with some hot items, that also serves as your mug refill spot.  Just beyond that the nightly Campfire Sing-A-Long with Chip n' Dale and the Movie Under the Stars is held.  None of this is accessible via car.  While we were thankful to have had our own car and bypass the bus system when it came time to leave the campground for the parks or other resorts, it's kind of a disadvantage at the campground.  We drove around just to check out the area but weren't able to park and explore unless we had a cart.
The internal bus system has several stops throughout the resort, but there are three different routes, so be sure to check the map to see which bus you want to catch.  In addition to the trading post area, the internal bus also takes guests to the marina to for recreation, nightly water pageant and fireworks viewing and to catch the boat to Magic Kingdom.  To access the other parks and guest areas, the internal bus will also take guests to the bus stop near the front of the campground to catch a bus out into the rest of Walt Disney World.  There is golf cart parking at most locations, so, seriously, get the cart and save yourself the agony of the bus.  (Ok, ok…in all fairness, the bus does get the job done, but we're spoiled and used to hopping a monorail or walking to a park and not having to catch a bus to our resort gift shop.)
Food, Glorious Food!
I guess it's glorious at Fort Wilderness.  I'm not totally sure because we always ended up at the restaurants after they closed.  I mentioned earlier that there's a little snack bar near the pool that also serves as the mug refill spot.  We received mugs with our dining plan, but I think we only refilled them at this station once or twice.  Despite being the most central location in the campground, it closed at 8:00 P.M.  Again, we're spoiled and used to the Polynesian's 24-hour quick service or at least the Beach Club's "'til midnight" refill station.  We rarely made it back from the parks before 11:00 P.M., so this spot wasn't useful for us.  Crockett's Tavern, near the marina, was open a little later (usually until 10:00 P.M.), but we never did make it back for that, either.  Meadow Trading Post did offer refills on hot beverages (coffee, tee, hot chocolate), and my little weirdos love hot chocolate even in 90 degree, 9000% humidity, so we did often swing by there (and used one of their six 15-minute parking spots) so they could fill up.  Meadow closes at 10:00 P.M., too, so we really only took advantage of that on our way out in the mornings (and, again, only because there were a couple of parking spots we could utilize).
As your friend, unless you're getting your mugs with your dining plan, I'm telling you not to buy them at Fort Wilderness.  You're either a ten minute walk, bus ride, golf cart ride or, if you want something hot, a car ride away from the refill spot.  The only reason I'd change my tune is if you were planning on visiting other resorts quite a bit, as the new mugs are legally good at all resorts.  Besides, you have a full kitchen in your cabin.  Grab a couple of two liters for the week, brew your own java in the morning and save yourself some time and cash.
Speaking of food, I would be remiss if I didn't mention the kindness we encountered at Disney's Fort Wilderness not from the cast members but from our fellow cabin dwellers!  We happened to meet a family at the bus stop who were checking out as we were just beginning our vacation.  They so kindly offered us their leftover supplies!  This included a small cooler, food, drinks, grill supplies and, what I was maybe most excited about, more zip top baggies!  Yeah, I'm a nerd like that.
A Few Odds and Ends
If you're headed to Chip 'N Dale's Campfire Sing-a-long, you can bring your own marshmallows/s'more supplies.  We even saw a family with hot dogs!  The last several trips we hit up the campfire at our respective resorts, marshmallows were complimentary.  Knowing that wasn't the case here, we hit Target and grabbed our own little s'more stash for the fire.  Guess what.  The sticks to roast the marshmallows are not complimentary as they were at other resorts.  The Chuck Wagon kiosk at the site sells wooden dowels for $.63 a pop.  Not a big investment, but Miss Prepared for Everything would've totally brought our own.
There's only space for one car at the cabin.  If your crew has more than one, the other(s) have to be left up at the parking lot outside the Reception Outpost.  I did see some people parking their second car creatively, but I'm not sure what the mouse's officials have to say about that, so do it at your own risk.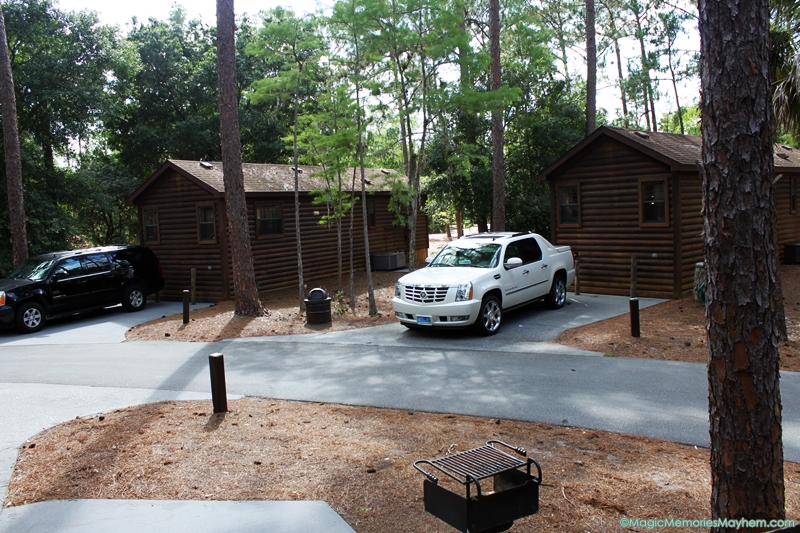 There is no "business center" at Fort Wilderness.  While this isn't a deal breaker for us, Sarah needed to print something out for their flight home, and she was directed to use either the Contemporary's business center or to try back later to catch a manager who might be able to help.
Family Fun
All of that aside (remember, only the storage thing really killed me!), there is so much to do at Fort Wilderness for kids and adults.  I wished we had more downtime to really explore all of the campground offerings.  And a golf cart.  The kids loved the feature pool, the cabin and the campground, so if (ok, probably when) we return to Fort Wilderness, it will definitely be more of a resort trip as opposed to a park commando one.  Now that we know the little quirks of the campground, we'll definitely be able to make the most of it.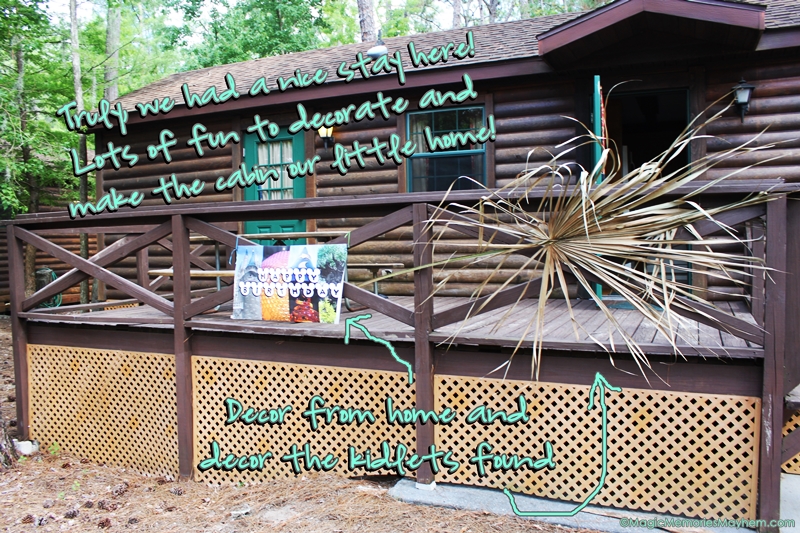 Another thing we really noticed here was the guests.  It was really a little community with your neighbors waving as you drove past or chatting you up as you walked.  We even had others invite us to grill out with them, and, of course, the sweet travelers from Montana who passed along their extras.  Ironically enough, we gave our leftovers to the guests who moved into the cabin where the Montanans had been staying. While Fort Wilderness may not be for every Disney traveler, it has a lot of promise for family fun, especially if you know a little more about it going in, so if you have any questions – ask!  Post in the comments, and I'll get back to you ASAP!
Let's start planning your trip full of Magic, Memories and maybe even a little Mayhem!