'Ohana means family, and family means no one gets left behind or forgotten.  It also means you're in for a yummy meal!!  We may be biased since this fun restaurant is located in the lobby of our Disney home, the
Polynesian Village
, but both breakfast and dinner options at 'Ohana should be experienced by Disney World fans at least once in my humble Polynesian opinion.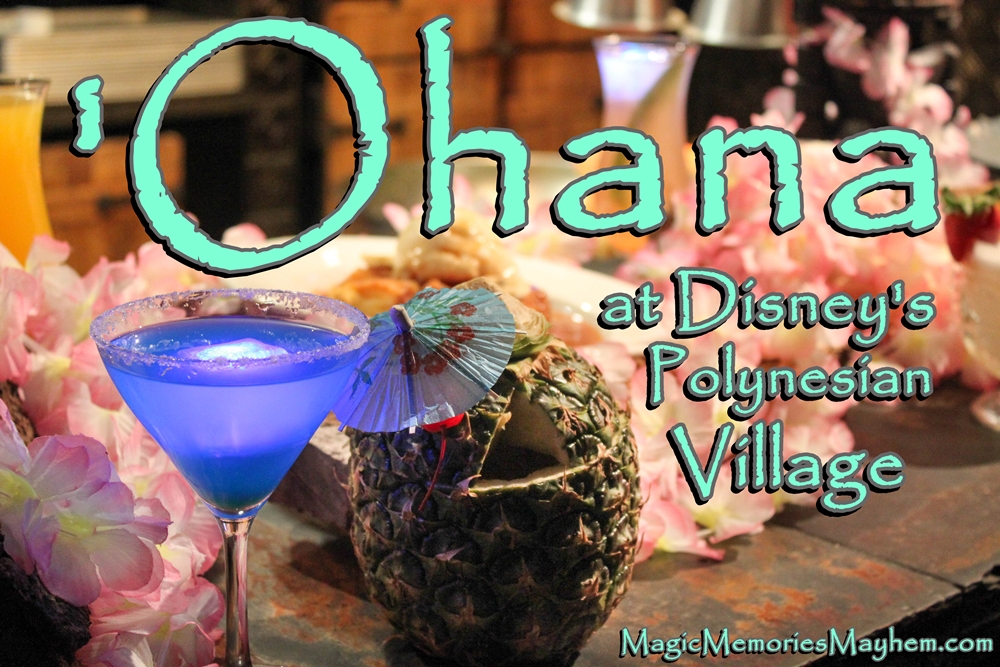 PhotoPass
'Ohana offers a PhotoPass stop prior to breakfast only. Since we have enough happy, normal group shots, we usually use these to be are authentic weird selves. Photos here will show in your PhotoPass account and will be included in your Memory Maker.
Food
Both breakfast and dinner are all-you-can-eat family-style meals with mounds and mounds of food! Breakfast is typical with sausage, bacons, eggs, etc., but be sure to enjoy the bread and POG juice to add a Polynesian flair. Dinner is meat. On. Sticks. Yeah, baby! A mix of Asian, Poly and a touch of Brazilian tastes make for a ridiculously filling and delish dinner.
Characters
Lilo and Stitch's Best Friends Breakfast is the only meal at 'Ohana currently showcasing characters. You'll find, of course, Lilo and Stitch who are accompanied by Mickey and his best pal Pluto!
While the characters just hang out at breakfast, there's no shortage of fun at dinner! With storytelling, music, dancing and coconut races, kids of all ages will enjoy themselves as they wind down a magical day at 'Ohana.
Enjoy a look at 'Ohana with our 'Ohana! Here's a peek at breakfast and dinner. Sorry for the dinner video…it's really dark and the volume is really low, but you get the picture. 🙂