With the Sassagoula serving as the central point of Disney's Port Orleans Resort Riverside, you'll feel like you're on the bayou in the old South at this moderate resort!  Rustic and romantic grounds complete the setting, and with lots of amenities and fun room choices, this may be the perfect fit for your vacation.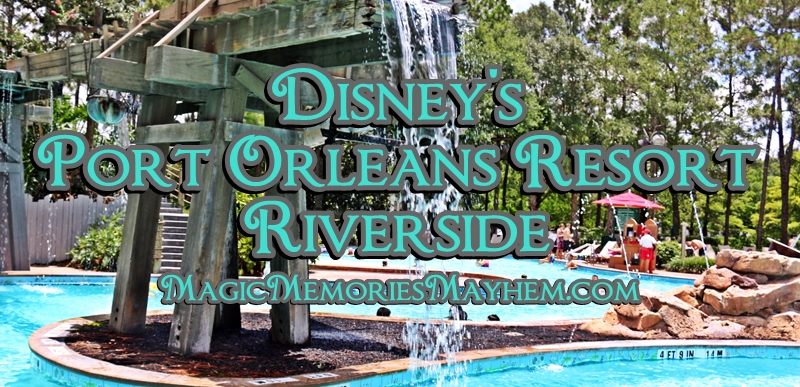 Disney's Port Orleans Resort Riverside
1251 Riverside Drive
Lake Buena Vista, FL 32830 407-934-6000
Lobby | Guest Rooms | Dining Options | Recreation | Around the Resort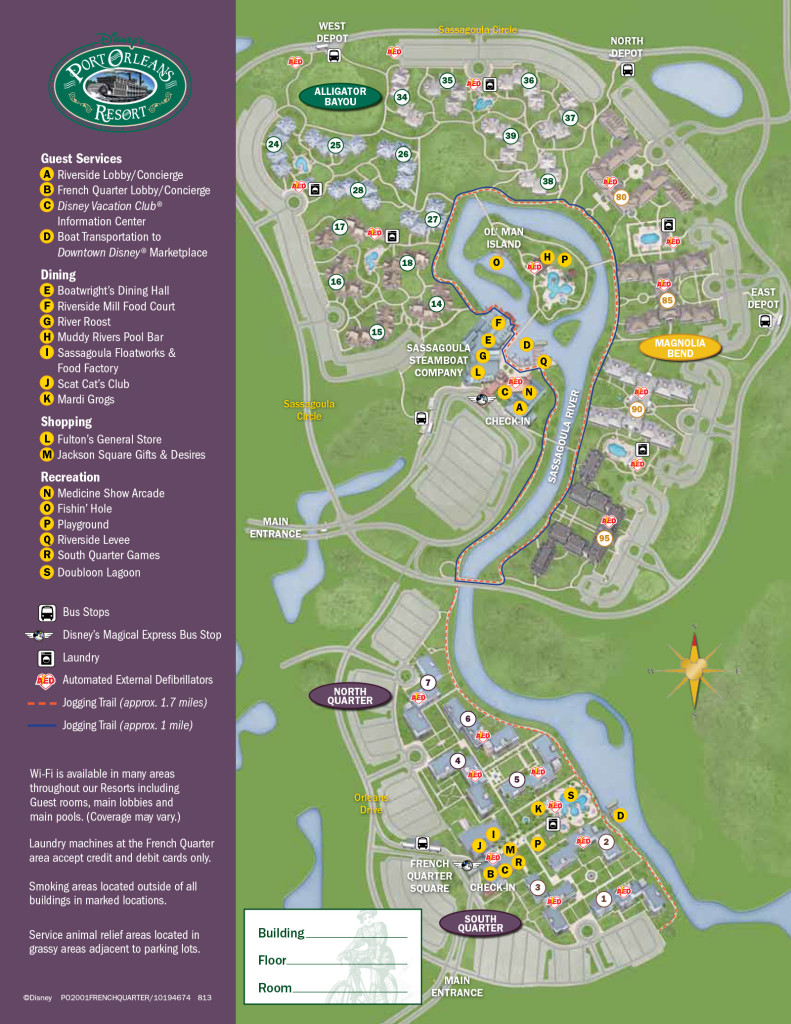 Rates: $162/night + (see Disney's rooms and rates page for exact pricing)
Room Occupancy: 4 in a standard room, 5 in a standard room with pull-down bed (see Disney's rooms and rates page for exact occupancy)
Transportation: Bus (to all theme parks, water parks), boat to Downtown Disney
Guest Rooms
Alligator Bayou and Magnolia Bend are home to standard guest rooms that sleep four or five (with a pull down bed) and an infant under three.  However, unlike most other resorts, the room interiors are themed to their sections.  Royal Guest Rooms fit for a princess and her royal family are also ready for booking!
Standard Rooms
Rooms include two queen beds (some king beds are available, some rooms have a pull-down bed), flat screen TV, dresser, a table with two chairs, small luggage rack, mini fridge, iron/board, small safe and free Wi-Fi.  Standard, garden, pool and river view rooms are available, as well as preferred rooms (closer to the lobby, dining and transportation).
Boatwright's Dining Hall
On our spur of the moment May 2015 vacation, Stitchy and I barely made it back in time from IllumiNations to catch the last seating at Boatwright's.  Frankly, I was tired of grab and go eats, and I wanted a nice, sit-down dinner.   Little did I know we were about to find a new table service to add to our top ten!  Good ol' Southern dishes adorn the menu at Boatwright's, and I had trouble deciding and eventually had to ask our server for a recommendation.  The shrimp and grits were delicious, and I'm looking forward to a return trip to this hidden gem to try the rest.
Riverside Mill
Riverside Mill offers several options for even the pickiest eaters.  Open for breakfast, lunch and dinner, the food court will be a go-to for Riverside guests.
The River Roost off the main lobby and Muddy Rivers at Ol' Man Island offer light snacks, as well as libations to help grown-ups unwind.
Recreation
With such a vast area, it's no surprise that Riverside offers lots in the way of recreation.  In addition to those activities at Riverside proper, guests can also take advantage of recreation amenities at its sister resort, French Quarter.  That's right, folks, Disney-approved pool hopping! Kids' only sailing adventures set sail from the Fishin' Hole for pirates ages 4-12.  If pirates aren't your thing, consider a leisurely carriage ride along Sassagoula River.  Early risers can see what's biting at the Fishin' Hole during a morning of catch and release fishing.  Bike rentals are available, as are jogging trails, playgrounds and arcades.  Top off the day with campfire fun and a Movie Under the Stars.
Ol' Man Island
The feature pool at Riverside, Ol' Man Island is a splashing good time with a water slide, fountains, "waterfalls," a kiddie pool, hot tub and more!  Several leisure pools are also scattered throughout the resort.
Fishin' Hole
Just behind Muddy Rivers, you'll find the Fishin' Hole where you can grab a cane pole by the half hour and get in on some catch and release action up until 1:45 P.M.