Our quest to have a pre-opening breakfast in every park took us to Animal Kingdom's Tusker House for Donald's Safari Breakfast.  Offering a few more exotic breakfast items, this breakfast buffet caters to adventurous and domestic palates alike.  Tusker House also offers lunch and dinner buffets also featuring characters.  We also enjoyed a very leisurely, unplanned dinner (pre-characters) here that led to one of my favorite magical moments in Harambe.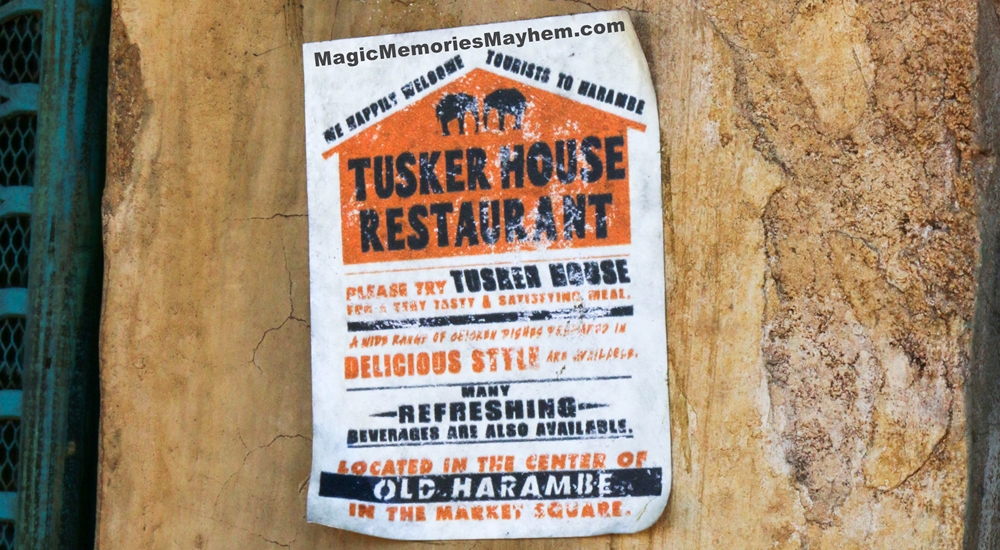 PhotoPass
Once upon a time Donald used to pop in for PhotoPass pictures prior to dining, but the last time we ventured to Tusker, he was MIA. As with most things Disney, of course, this can change at the drop of a feather. Photos taken here will show in your PhotoPass account and will be included in your Memory Maker.
Tusker House
Located in the center of Old Harambe in the market square, Tusker House is draped in fabrics, details and atmosphere that truly transports you to a small African village. While Animal Kingdom may be a "skippable" or "half day" park for some, it is one of my absolute favorite places to really sink into the Disney details. Tusker House is no different than the rest of the park in that respect.
Food
Much like Boma, this buffet offers some adventurous choices in food, but there are a lot more "mainstream" options here. Breakfast will please almost everyone while lunch and dinner get a little more authentic. Of course, as mentioned, picky diners can grab cold cuts, Uncrustables and corn dogs, among other tamer foods. Don't forget to gulp some Jungle Juice!
Characters
After some changes, all meals at Tusker House now feature your Disney safari pals! Goofy, Daisy and Mickey make the rounds in adorable outfits, so keep the cameras and autograph books ready!