Did you know you could camp at Walt Disney World?  I know!  Crazy, right?  While we personally haven't stayed at Fort Wilderness, I was able to take part in a site inspection in June and snap some pictures of the cabins at Fort Wilderness.  We bunked with friends in a cabin at Fort Wilderness on our 2014 Epic Summer vacation, so check out this post for my firsthand thoughts!
If you're ready to take part in some great recreation and really feel like you're away from the hustle and bustle of city life (but in actuality be just minutes from Magic Kingdom), Fort Wilderness may be for you!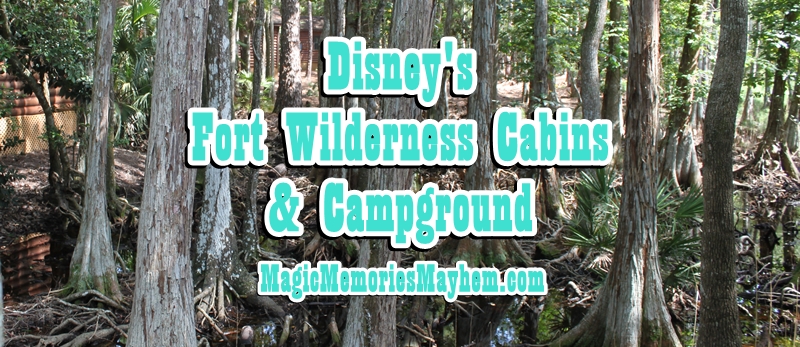 Disney's Fort Wilderness Resort & Campground
4510 N. Ft. Wilderness Trail
Lake Buena Vista, FL 32830
407-824-2900
Lobby | Shopping and Sundries |Cabins | Dining | Recreation | Around the Resort
Rates: $48+/night for campsites, $289+/night for cabins
Cabin Occupancy: 6
Transportation: For internal transportation, golf carts are available for rent at around $60 per day and internal bus service will take guests to either the boat launch (Magic Kingdom) or the bus stop (all other Disney guest areas)
Shopping and Sundries
The Settlement and Meadow Trading Posts offer anything you need for your camping experience from groceries to clothing to sunscreen and more. The Settlement Trading Post is located across from Trail's End near the marina, while the Meadow Trading Post is located right in the center of the campground.
Cabins
All cabins are equipped with a deck, picnic table, charcoal grill, full bathroom with tub/shower, hall closet, full kitchen, living area, TV, dining table that seats six, sofa, kids' table and two chairs, pull-down Murphy bed, window seats, telephone and locked cabinet.  The bedroom features a double bed, bunk beds, nightstand, chest of drawers, vanity, hair dryer and a closet with Pack 'N Play and luggage rack.  Each cabin also comes with space to park one car.  Additional cars should be parked at the Outpost.
Trail's End
One of the most modestly priced buffets on property, Trail's End is a great option despite the hassle to get there for guests now calling Fort Wilderness home.  Guests coming from other areas will either need to park up at the Outpost and take the internal bus to the back of the campground or climb aboard the boat from Magic Kingdom to Fort Wilderness.
Lunch offers an a la carte menu, but breakfast is an all-you-can-eat buffet, as is dinner, where I think the restaurant really shows its chops!  Disney World-famous Chef TJ is currently at Trail's End, and as usual, his selection is en pointe.
Crockett's Tavern, also in Pioneer Hall, offers quick service-type items.
If you're hanging out at the Meadows Pool, you can also find quick items at Meadows Snack Bar.
Fort Wilderness is also home to two of the three dinner shows at Walt Disney World, Mickey's Backyard BBQ, an all-you-can-eat buffet with a live band and character appearances and the Hoop Dee Doo Musical Revue, an all-you-can-eat dinner reminiscent of an old West variety show.
Recreation
Fort Wilderness is truly like a vacation within a vacation, and the great and varied recreation options at the campground are part of that!
The Meadows Pool is the feature spot with a sprayground and water slide, while the leisure Wilderness Pool offers a more mellow option.
Tri-Circle D Ranch boasts pony rides, horseback trail rides, wagon rides and carriage rides.  Guests can also spend a little time with the Main Street USA horses, as well as Cinderella's own ponies!
Head to the marina for canoe, motorboat and kayak rentals or inquire about fishing excursions or waterskiing.
Archery, bike rentals, basketball and volleyball, jogging trails, playgrounds and two arcades round out the recreation options at Fort Wilderness.
After all that fun, wind down with Chip-N-Dale's Campfire Sing Along then the Movie Under the Stars.
Wagon Rides
$5 for children; $8 for adults
Chip-N-Dale's Campfire Singalong
Christmas
December is truly festive at the campground with campers decking out their campsites, cabins and golf carts for the season.  While we've marveled at the decor, I don't have any camp site pictures to share, but I promise to make the sacrifice and get some firsthand shots this year!