You're planning your very first Disney Cruise, and you keep seeing this crazy phrase pop up around the internets: Fish Extender. Or maybe you've sailed the magical seas with Disney and wondered what those pouches were adorning your neighbors' stateroom numbers were. Either way, we're here to help! Fish extenders can add tons of fun to your voyage whether you'll be boarding the Magic, Wonder, Dream or Fantasy, and here is a rundown of everything you need to know to make yours extra magical!

*This post contains an affiliate link, which means if you click through and purchase something, I may get a commission from that purchase. 
What is a Fish Extender?
First things first, right? What the heck is a fish extender, or for the initiated, an "FE?" Right outside each stateroom door is a fish just above the stateroom number. The actual purpose of this fish is to hold your cruise "mail." This is where you'll find those fantastic spa coups, a birthday card from the crew, reminders, etc. However, early on in the Disney Cruise days, a magically fun (I imagine) group of cruisers decided to extend the purpose (and extend physically) of these sweet little guys. Thus, the fish extender was born.
So, you know where the crazy name comes from, but what do you actually do if you join a fish extender group? I equate FE to a Christmas stocking. It's hung up, and throughout the cruise, those in your group will drop trinkets and treasures in your pockets, and you will reciprocate. Each group will have its own rules that cruisers should abide by if they plan to join the FE. Not everyone does, so keep that in mind when creating gifts and look at it from the "better to give than to receive" angle. We've found that by the time we're on the ship, we really just enjoy the surprises and don't tend to keep track of who has given what or who may have not given anything.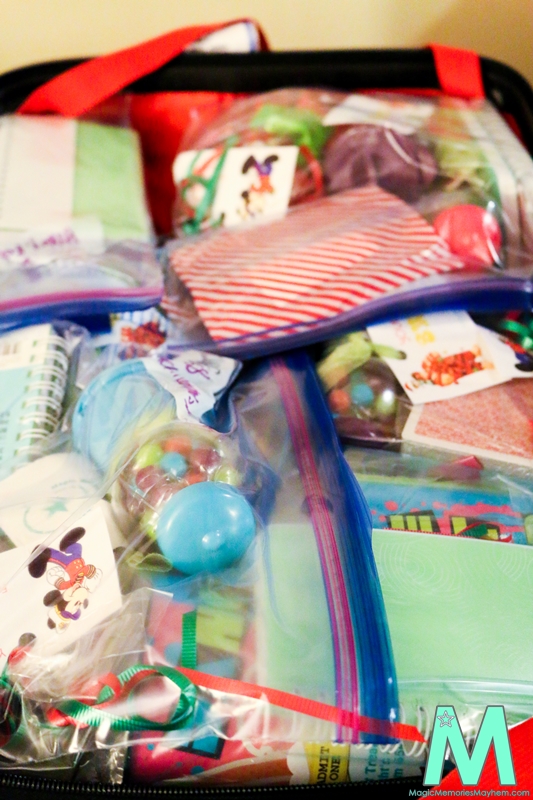 How Do I Deliver My Gifts?
I know it sounds a little silly, but I devote an entire carry-on roll-aboard to my FE gifts. I typically give one gift per person, then an overall cabin gift. That can get a little bulky, so it all goes in its own suitcase. All of gifts ride in the suitcase back home, as well as a few extra souvenirs we might pick up aboard or in port. So, now you've gotten your gifts on board the ship. What's the best way to disseminate them?
I put all gifts per cabin in a large ziptop bag and label that bag with the stateroom number. This makes is super easy to keep items together, but it's also handy if someone doesn't have an FE large enough for your gifts or if, sadly, someone's FE has gone missing. This happened to a member of our group in December 2016, so rather than scatter goodies around her door, we were able to leave them neatly in the bag.
Some guests take an hour and deliver everything at once, but we've found it easiest to drop gifts by deck. Headed to the pool deck? Grab any bags going to decks nine and above and deliver on the way. Headed to the Oceaneer's Lab? Grab your middle decks. Going to explore port, grab the lower decks and drop them on your way out.
And That's It!
Now you're ready for your first fish extender! Please feel free to leave any questions in the comments, and we'll be quick to answer, or if we don't know the answer, we'll be quick to find it. Ahoy!