While we're most often at the Yacht Club's sister resort, the Beach Club, the Yacht Club is a family favorite that offers a mellow, sophisticated alternative. It's a beautiful resort in an perfect location with two parks within walking or boating distance, as well as the Boardwalk entertainment area. It's perfect for a romantic getaway or a family who is looking for a calmer experience in the Epcot resort area.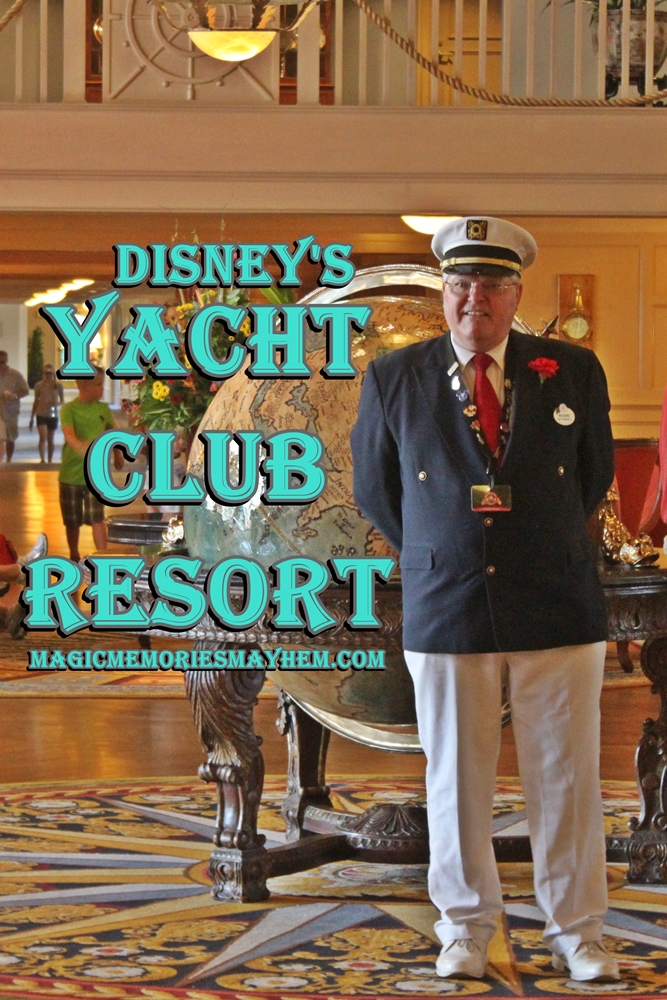 Disney's Yacht Club Resort
1700 Epcot Resorts Boulevard
Lake Buena Vista, FL
(407) 934-7000
Lobby | Shopping | Guest Rooms | Club Level | Dining Options | Recreation | Around the Resort

Rates: $335/night + (see Disney's rooms and rates page for exact pricing)
Room Occupancy: 4/5 (standard), 4+ (suites) (see Disney's rooms and rates page for exact occupancy)
Transportation: FriendShip Boats/Foot (Epcot, Boardwalk, Hollywood Studios)
Bus (Magic Kingdom, Animal Kingdom, water parks, Disney Springs)
Standard Room
Standard rooms offer two queen beds or one king bed, as well as a daybed in select rooms.  A desk/table and chair, vanity area with double sinks, safe, iron and ironing board, mini-fridge, coffeemaker, microwave (upon request) and balconies/patios are also included.
Deluxe Room (Club Only)
Deluxe rooms sleep up to 5 and feature two queen beds and a day bed with a small seating area and a larger room.
One Bedroom Suite (Club Only)
A one bedroom suite sleeps up to 3 and includes one king bed and a day bed, as well as a loveseat.
Two Bedroom Suite (Club Only)
A two bedroom suite sleeps up to 7 in a king bed, two queen beds and a day bed.  The suites also includes a small seating area and wet bar.
Club Level
All Disney deluxe resorts offer club level accommodations. We really enjoy the extra services from the concierge staff, as well as the club lounge for a snack or drink throughout the day. Read here to decide if it's worth it for your stay.
The Regatta Club at Disney's Yacht Club Resort is currently undergoing a refurbishment and will hopefully emerge like the much improved Stone Harbor Club at its sister resort. The Regatta Club staff is also a lot of fun, and we've spent lots of time chatting them up and laughing with them during our stays.
Yachtsman Steakhouse
Yacht Club's signature offering, serving only dinner, is the Yachtsman Steakhouse. Arguably one of the better places to find a steak on property, I have some friends who can take it or leave it, but it is a very nice place with some nice options if you're looking for an upscale experience at your resort.
Crew's Cup Lounge
Next door to the Yachtsman is the Crew's Cup Lounge, offering guests a low-key spot to grab light fare and adult beverages.
Captain's Grille
Seemingly never crowded, the Captain's Grille offers breakfast lunch and dinner in a casual, nautical setting.  We may have to give this place a go soon, as it seems to get consistently good reviews despite being one of the less popular options
Hurricane Hanna's Grill
Hanna's poolside offers burgers and other quick service fare for guests hanging out at Stormalong Bay or just passing by.  It also serves as a mug refill spot.  Kids' meals come in a bucket perfect for building castles on the sand bar!
Ale and Compass Lounge
The Ale and Compass Lounge is located just off the main lobby and offers specialty coffee, pastries and drinks.
Private Dining
Room service is available 24 hours.
Recreation
The Yacht Club, along with its sister resort, the Beach Club, feature, by popular opinion, the best pool area on property!  Stormalong Bay features water slides, sand bottom, a whirlpool, lazy river, sand bar and more!  Complimentary life jackets are also available.
The Ship Shape Health Club features fitness equipment and salon and spa services.  Also available are tennis courts, sand volleyball, jogging trails, Lafferty Place Arcade and the Bayside Marina (which ofers boat and bike rentals, as well as fishing excursions, kids' only cruises and fireworks cruises, among other great experiences).  While pool-hopping is not allowed at Walt Disney World, sister resorts, such as the Yacht and Beach Club, may utilize the pools at both resorts.
The Sandcastle Club located next door at the Beach Club is a convenient option for parents who want a night out, perhaps across Crescent Lake at the Boardwalk, and who have (potty-trained and anti-pull-up) children 3-12 years old.  Dinner is served between 6:00 and 8:00 P.M., and you gotta get the kidlets by midnight, or they turn into pumpkins.
Or maybe you'll decide to end the day all together with some campfire fun and a Movie Under the Stars.