We've always enjoyed the view of the Boardwalk from our room or the beach across the lake at the Beach Club.  We decided that December of 2012 would be our chance to try it on for size.  Maybe it was the Christmas music wafting through our balcony doors.  Maybe it was the garlands dripping with ornaments.  Maybe it was just the Christmas spirit, but we fell in love!  With so many nooks and crannies to explore and the allure of the actual Boardwalk, there's no shortage of things to do at the resort.  We were only there for a weekend before moving to the Polynesian, but I found myself wishing we were staying there the entire trip.  Since that short weekend at the Boardwalk, we've spent many a trip at this fun resort!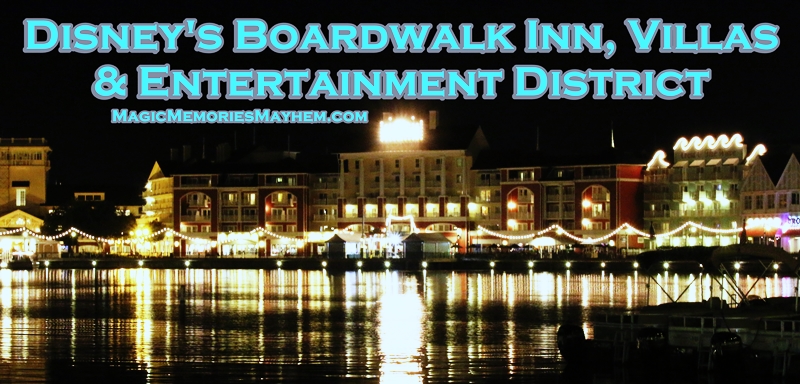 Disney's Boardwalk Inn:
2101 Epcot Resort Boulevard
P.O. Box 10000
Lake Buena Vista FL 32830-1000
(407) 939-5100

Lobby | Shopping | Guest Rooms | Club Level | Dining | Recreation | Around the Resort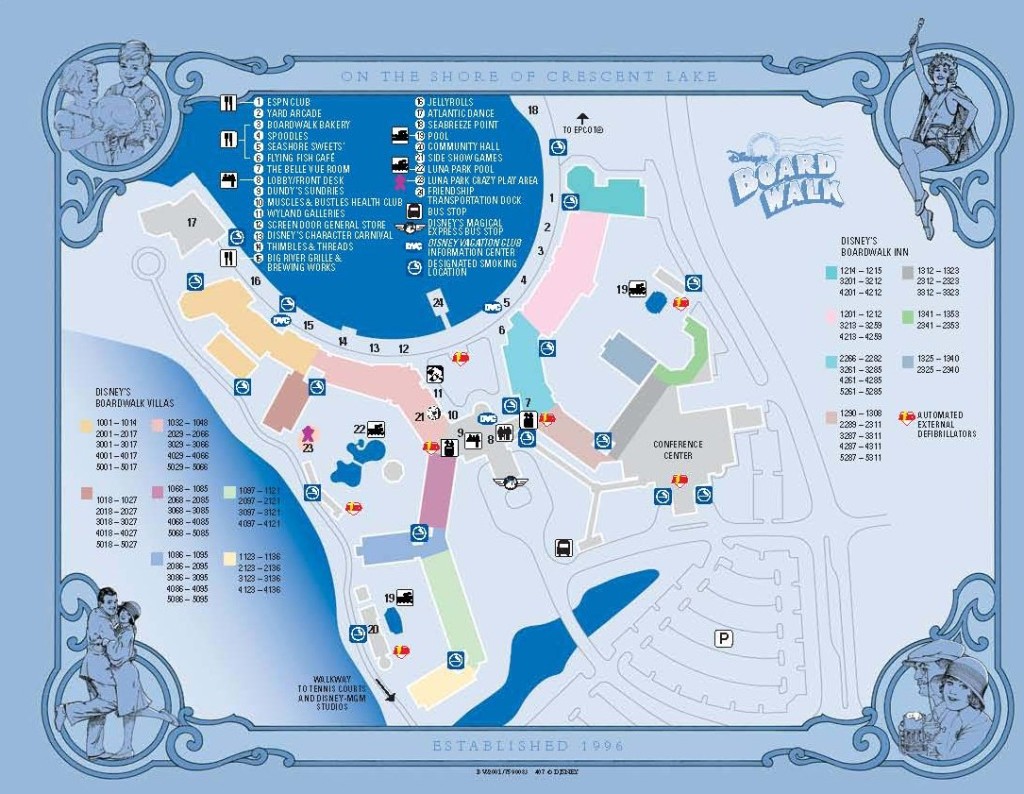 Rates: $360/night + (see Disney's rooms and rates page for exact pricing or contact me for an obligation-free quote!)
Room Occupancy: 4/5 (standard room), 2 (garden rooms), 4 (studio/one bedroom), 8 (two bedroom), 12 (grand villa) (see Disney's rooms and rates page for exact occupancy)
Transportation: Friendships/Walking Distance (Epcot, Epcot Area Resorts, Hollywood Studios), Bus (all other guest areas)
Shopping
You'll find a small gift shop, Dundy's Sundries, toward the Villa side of the Boardwalk just off the main lobby. The main gift shop is on the Boardwalk, and while it seems to be a number of shops by looking at the facade, it's actually one large store with groceries, sundries and souvenirs on the Villa side. On the Inn side, you'll fine Seashore Sweets candy shop for delectables and deliciousness!
Guest Rooms
The Boardwalk Inn offers standard rooms and sleep 4 or 5, as well as club level standard rooms, deluxe rooms, garden rooms and suites.  Standard views offer rooms overlooking the pool, gardens or parking areas.  Water views showcase Crescent Lake and/or the Boardwalk.  There are a few rooms in the water view category that only offer a window that doesn't open.  I, personally, think these are a waste.  Be sure to request a balcony if you want to watch the action on the Boardwalk.
Standard Room
Standard rooms offer two queen beds or one king bed, as well as a daybed in select rooms.  A desk/table and chair, vanity area with double sinks, safe, iron and ironing board, mini-fridge, coffeemaker, microwave (upon request) and balconies/patios are also included.  Free Wi-Fi is available, too.  Deluxe rooms offer the same features with the addition of a small sitting area.
Garden Room
Garden rooms are two story cottages with club level offerings.  Rooms include a living area, kitchenette and restroom downstairs.  Upstairs you'll find a king bed and bathroom with jacuzzi tub and shower.  These rooms also have private "yards" but do not have the Boardwalk view option.
Deluxe Studio
Deluxe studios sleep up to four with one queen bed and one double sofa, as well as a kitchenette and table and chairs.
One Bedroom Villa
A one bedroom villa sleeps up to 4 and includes one king bed and a queen sleeper sofa.  You'll also enjoy a full kitchen, jet tub and washer/dryer.
Two Bedroom Lock-Off Villa
The two bedroom villas are a combination of the deluxe studio and one bedrooms villa.
Club Level
All Disney deluxe resorts offer club level accommodations. We really enjoy the extra services from the concierge staff, as well as the club lounge for a snack or drink throughout the day. Read here to decide if it's worth it for your stay.
The Innkeeper's Club is a little different in that the entire floor is not dedicated to club level rooms.  Midway down the hall, you'll come upon a small reception area and locked door.  This is where you'll access the lounge and the majority of the club rooms.  Some club rooms are located outside of the secure door.
Trattoria al Forno
The Boardwalk's newest restaurant offers a fantastic menu of Italian dishes in a warm, inviting atmosphere.  We ate here for the first time with CB and one of her kidlets, and the staff and chef here were fantastic with their allergies.  While their allergy options can look a little boring at times, their meals at Trattoria were awesome!
While conveniently located for Boardwalk guests, I'd suggest trying out some of the more unique restaurants along the Boardwalk or even across the lake.  No complaints about the quality of food, but the indoor atmosphere is a little generic for us.  If we try this spot again, we'll likely dine outdoors, weather and humidity permitting.
Flying Fish Cafe
This open kitchen option serves up seafood and steak during the dinner hour only.
ESPN Club
Sports fans will love this spot for catching the latest scores and grabbing some classic American fare.  And if your room is nearby during the Heisman Trophy broadcast, you can here it through the walls.  Just throwin' that out there.
Boardwalk Bakery
A great albeit often crowded quick service can be found on the Boardwalk.  Serving up all three meals, this is also a great place to pop in for a sweet treat and serves as a mug refill spot.
Leaping Horse Libations
If you're chillin' by the pool and need to nosh, head over to Leaping Horse Libations to grab a quick burger or dog, or maybe indulge in your own leaping libation.  This quick service opens from lunch through dinner.
The Belle Vue Room
Just off the main lobby, this lounge is a gem of the Boardwalk.  I've hosted many a meeting and interview here, as it tends to be a pretty mellow spot.  Offering morning coffee and pastries and evening drinks, this is a great place to stop in fuel up for or relax after the parks.
If you're hungry, this is not your place.  They just serve complimentary popcorn.  But if you're thirsty for a good time and a good drink, pony up the $12 cover and get in there.  Dueling pianos might sound a little geeky at first, but these guys are super talented and very entertaining.  With just enough cheese to remind you that you are, in fact, still in Walt Disney World, most of the night is dictated by the audience, which can be good or bad but always amusing.
Or maybe you want to dance your churros off?  Head across the boards to Atlantic Dance.  Be aware, unless you bring someone, you're dancing alone.  Despite the absence of a cover charge, this place is usually pretty bare.  Which is super lame because it's a GORGEOUS space.  Fix this, Disney!!
Miscellaneous Food Options
Varied quick food options open up on the Boardwalk in the evenings offering funnel cakes, pizza, hot dogs and other typical boardwalk goodness, as well as a few grown-up beverage options.
Private dining and pizza delivery are also available for Boardwalk resort guests.
Recreation
The Boardwalk boasts three pools, a health club, arcade and more!  Community Hall, located on the Villa side offers recreational rentals, as well as games.  Tennis enthusiasts (you'd have to be if you play on vacation) can also get their racket on near the Villa side after renting equipment and reserving a court at Community Hall.
Luna Park Pool
The feature pool is home to the Keister Coaster aka the creepy clown slide (lots of creepiness at the Boardwalk), a kiddie pool, splash area, hot tub and playground, as well as Leaping Horse Libations.
The Belle Vue Room
I love this little lounge off the main lobby!  Perfect place to relax while waiting for your room or your departure on the Sadgical Express :(. With games, comfy couches and plenty of outlets for charging, it's a great spot to pass the time.
Entertainment on the Boardwalk
Christmas at the Boardwalk Inn and Villas